You are here
Back to top
Masterminds (Paperback)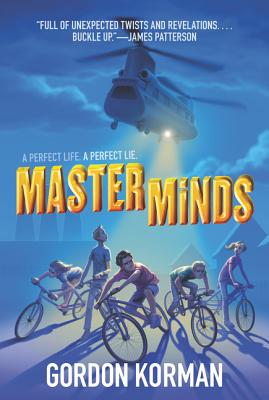 $9.99

Usually Ships in 1-5 Days
Description
---
The first book in the action-packed trilogy from New York Times bestselling author Gordon Korman is perfect for fans of Stranger Things and James Patterson. 
Eli Frieden has never left Serenity, New Mexico...why would he ever want to? Then one day, he bikes to the edge of the city limits and something so crazy and unexpected happens, it changes everything.
Eli convinces his friends to help him investigate further, and soon it becomes clear that nothing is as it seems in Serenity. The clues mount to reveal a shocking discovery, connecting their ideal crime-free community to some of the greatest criminal masterminds ever known.
The kids realize they can trust no one—least of all their own parents.
About the Author
---
Gordon Korman published his first book at age fourteen and since then has written more than ninety middle grade and teen novels. Favorites include the New York Times bestselling Ungifted, Supergifted, The Unteachables, Pop, Schooled, and the Masterminds series. Gordon lives with his family on Long Island, New York. You can visit him online at www.gordonkorman.com.
Praise For…
---
★ "A compelling, twisty mystery with a truly gratifying payoff." — Booklist (starred review)
"This unique and action-packed story is filled with twists and turns that readers will not see coming. A wonderful start to what promises to be a thrilling series." — School Library Journal
"This tense, fast-paced story will have readers racing toward the cliffhanger ending." — Publishers Weekly
"A fresh premise, good pacing, surprising twists and engaging characters all combine to make this a series worth following." — Kirkus Reviews
"A terrific page-turner, full of unexpected twists and revelations. Buckle up." — James Patterson
"Masterminds is a masterpiece—a mind-bending adventure in a shocking but all-too-possible present, a tale of friendship and ultimate sacrifice with characters who will reach inside you and not let go. It's that rare book that scares you to the core while you're laughing your head off." — Peter Lerangis, bestselling author of the Seven Wonders series
"Masterminds takes readers on wild ride with terrific humor, a surprising mystery, and characters you can't help but root for." — Brandon Mull, #1 New York Times bestselling author of Fablehaven and Five Kingdoms
Praise for UNGIFTED: "Touching, without being overly sentimental, Ungifted is a gem for readers looking for a story where the underdog comes out on top." — Voice of Youth Advocates (VOYA)
Praise for UNGIFTED: "From its lovable-robot jacket art to its satisfying conclusion, this will please Korman's fans and win him new ones." — ALA Booklist
Praise for UNGIFTED: "Donovan has a goofy kindness that charms characters and readers alike … The message is tolerance, and Korman expertly and humorously delivers it in an unpretentious and universally appealing tale." — School Library Journal
Praise for UNGIFTED: "Funny and insightful." — Publishers Weekly
Praise for POP: "A brisk, heartfelt and timely novel." — The New York Times Book Review
Praise for POP: "Korman goes straight to the heart." — Kirkus Reviews (starred review)
Praise for POP: "Thought-provoking." — Publishers Weekly
Praise for POP: "Fantastic…Perfectly captures the football experience." — Newsday
Praise for POP: "Funny, poignant and full of football action, POP hits you hard and doesn't let up." — Tim Green, author of the New York Times bestselling Football Genius and Football Champ