You are here
Back to top
The Sea, the Sea (Paperback)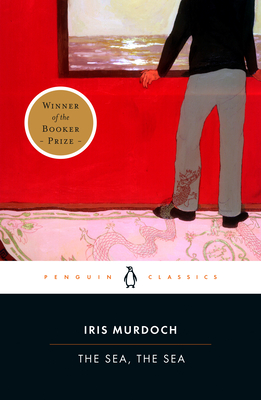 $20.00

Usually Ships in 1-5 Days
Description
---
Winner of the prestigious Booker Prize—a tale of the strange obsessions that haunt a playwright as he composes his memoirs 

Charles Arrowby, leading light of England's theatrical set, retires from glittering London to an isolated home by the sea. He plans to write a memoir about his great love affair with Clement Makin, his mentor, both professionally and personally, and amuse himself with Lizzie, an actress he has strung along for many years. None of his plans work out, and his memoir evolves into a riveting chronicle of the strange events and unexpected visitors-some real, some spectral-that disrupt his world and shake his oversized ego to its very core.

For more than seventy years, Penguin has been the leading publisher of classic literature in the English-speaking world. With more than 1,700 titles, Penguin Classics represents a global bookshelf of the best works throughout history and across genres and disciplines. Readers trust the series to provide authoritative texts enhanced by introductions and notes by distinguished scholars and contemporary authors, as well as up-to-date translations by award-winning translators.
About the Author
---
Dame Iris Murdoch (1919-1999) was one of the most acclaimed British writers of the twentieth century. Very prolific, she wrote twenty-six novels, four books of philosophy, five plays, a volume of poetry, a libretto, and numerous essays before developing Alzheimer's disease in the mid-1990s. Her novels have won many prizes: the James Tait Black Memorial Prize for The Black Prince, the Whitbread Literary Award for Fiction for The Sacred and Profane Love Machine, and the Booker Prize for The Sea, The Sea. She herself was also the recipient of many esteemed awards: Dame of the Order of the British Empire, the Royal Society of Literature's Companion of Literature award, and the National Arts Club's (New York) Medal of Honor for Literature. In 2008, she was named one of the Times' (London) 50 greatest British writers since 1945.

Mary Kinzie is the author of Ghost Ship and The Cure of Poetry in an Age of Prose.
Praise For…
---
Praise for Iris Murdoch and The Sea, The Sea:

Winner of the Booker Prize 

"Profound and delicious for many reasons . . . a multilayered working out of her feelings about the intensity of romantic experience. . . [it] also happens to be intelligently and sympathetically concerned with four of my favorite things: swimming, eating, drinking and talking . . . it is an ideal beach book—especially if you enjoy the cooler and pebblier and spookier northern sort of beach." —Dwight Garner, The New York Times 

"A joy to read: a rollicking story that seems endlessly to be building towards some awful, hilarious, frightening conclusion." —Harper's Bazaar

"Sublime [and] profound . . . She takes great care to imbue the house, the sea, the surroundings—everything—with depth and significance . . . exhilarating." —Sam Jordison, The Guardian, "Booker club"

"This comedy is lit with the aplomb of true comedy's calm understanding of moral obliquity . . . There is the genuine weight of obsession in Arrowby's narrative, but also the mere weight of iteration and ingenuity." —Martin Greenberg, The New York Times Book Review 

"Murdoch's subtly, blackly humorous digs at human vanity and self-delusion periodically build into waves of hilarity, and Arrowby is a brilliant creation: a deeply textured, intriguing yet unreliable narrator, and one of the finest character studies of the 20th century." —Sophia Martelli, The Guardian

"The author renders her immorality play with painstaking attention to atmosphere: the changing hues of the waves, the slippery amber rocks, the strangely damp house are all made palpable. The old scandals are shrewdly reexamined, and Murdoch's style is as saline as the sea below." —Time

"One of the best and most influential writers of the 20th century . . . She connected goodness, against the temper of the times, not with the quest for an authentic identity so much as with the happiness that can come about when that quest can be relaxed." —Peter Conradi, The Guardian