You are here
Back to top
Deep Winter: A Novel (Paperback)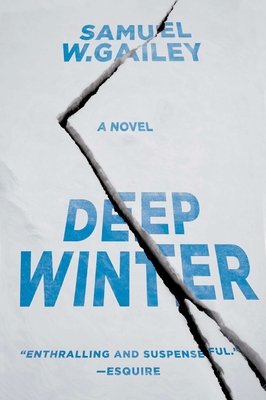 Description
---
"A beautiful and brutal debut. Put Steinbeck's Of Mice and Men in a blender with Scott Smith's classic crime novel A Simple Plan, then watch as Gailey hits the switch and everything in this world spins dangerously out of hand. A wonderful fast-paced read." –Urban Waite, author of The Terror of Living
 
As a powerful winter blizzard converges on a small Pennsylvania town, a local woman is found brutally murdered.  All evidence points to Danny Bedford, the town outcast, when he is discovered cradling the bloody body.  Danny manages to escape into the darkened woods, but he is pursued by the vindictive deputy sheriff, the victim's brothers, and distraught townspeople demanding justice.  During the freezing night that follows, an intricate web of lies is uncovered, revealing that not everything in the town is quite what it seems, which sets off an unstoppable chain of events that changes the townspeople forever.
About the Author
---
Samuel W. Gailey has written for 20th Century Fox, Showtime and Documentary magazine. He lives in southern California with his daughter and wife, author Ayn Carrillo Gailey.
Praise For…
---
"Enthralling and suspenseful, like a Michael Connelly novel, but more elegantly written." –Esquire

"Beautifully written but deeply disturbing." –Marilyn Stasio, The New York Times Book Review

"This is a harsh, brutal novel, as bleak as its wintertime setting. It's also so brilliantly done, so artfully underwritten with not a word wasted, that readers may hate themselves for letting this grim narrative trap them in its coils." –Booklist

"Set deep in the heart of rural Pennsylvania, Deep Winter hits you with the toxic blast of Frank Bill, combined with the raw emotional intensity of Daniel Woodrell." –Raven Crime Reads blog

"Gailey writes visually, rendering the characters and action both vivid and alive." –Kirkus

"Set in rural Pennsylvania, Samuel W. Gailey's Deep Winter is a beautiful and brutal debut. Put Steinbeck's Of Mice and Men in a blender with Scott Smith's classic crime novel A Simple Plan, then watch as Gailey hits the switch and everything in this world spins dangerously out of hand. A wonderful fast-paced read." –Urban Waite, author of The Terror of Living and The Carrion Birds

"Deep Winter is a fast-paced thriller tense enough to give you paper cuts from turning the pages so quickly." –Joe R. Lansdale, author of The Thicket

"Deep Winter captures the every bit of the darkness of a Selby Jr, novel and relocates it in rural Pennsylvania …. I will put [it] in the hit category.... [It] is an exciting, fast paced novel with plenty to offer in the way of suspense. Highly recommended for crime novel fans and those who like a darker, real world story." --Evilcyclist blog

"Compelling... A riveting, character driven novel.... impossible to put down... Deep Winter is an impressive first novel." --Book Reviews and More blog

"A clever and compelling character driven novel about the events leading up to and the aftermath of a brutal murder. Told from several points of view over a short period of time, this was a fascinating old school type read with a wonderful noir feel to it…. Mr. Gailey has created a tense, claustrophobic atmosphere within the tightly woven and fast moving plot – and given us an authentic soundbite of small town life….Unpredictable and astute, I would recommend this for lovers of crime fiction, especially if they like it with a classic feel rather than a more modern one." --Liz Loves Books blog