You are here
Back to top
The Reformation: A History (Paperback)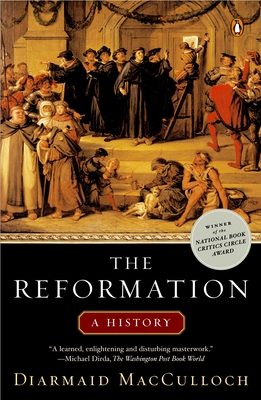 $26.00

Usually Ships in 1-5 Days
Description
---
The National Book Critics Circle Award–winning history of the Reformation—from the New York Times bestselling author of Christianity 
At a time when men and women were prepared to kill—and be killed—for their faith, the Protestant Reformation tore the Western world apart. Acclaimed as the definitive account of these epochal events, Diarmaid MacCulloch's award-winning history brilliantly re-creates the religious battles of priests, monarchs, scholars, and politicians—from the zealous Martin Luther and his 
Ninety-Five Theses
to the polemical John Calvin to the radical Igantius Loyola, from the tortured Thomas Cranmer to the ambitious Philip II.
Drawing together the many strands of the Reformation and Counter-Reformation, and ranging widely across Europe and the New World, MacCulloch reveals as never before how these dramatic upheavals affected everyday lives—overturning ideas of love, sex, death, and the supernatural, and shaping the modern age.
About the Author
---
Diarmaid MacCulloch is Professor of the History of the Church at Oxford University. He is the author of Thomas Cranmer, winner of the Whitbread Prize, the James Tait Black Prize, and the Duff Cooper Prize; Christianity, a New York Times bestseller that won the Cundill Prize in History and was chosen by The New Yorker and The New York Times as a Best Book of the Year; and Silence: A Christian History. The Reformation won the National Book Critics Circle Award, the Wolfson Prize, and the British Academy Prize A Fellow of the British Academy and the Royal Historical Society, he was knighted by the Queen for his services to scholarship.
Praise For…
---
Praise for The Reformation

 "This isn't merely 'a history' of the Reformation, but rather 'the history.' One would be hard put to imagine a more detailed, even-handed, clearly written account of the religious controversies of the sixteenth century. . . . The Reformation is a learned, enlightening, and disturbing masterwork."
—Michael Dirda, The Washington Post Book World

"Richly encyclopedic . . . MacCulloch brings the history of the Reformation into vivid focus, providing what must surely be the best general account available."
—Financial Times

"Monumental . . . The Reformation is set to become a landmark."
—Lisa Jardine, The Observer

"Handled here with brilliance, this is the kind of history that normally gives even academic historians vertigo."                                                                        
—The Economist

"Deserves to become the standard history of early modern Europe religion and its legacy, synthesizing and assessing a quarter-century of international scholarship . . . Like the best of historians, he helps us to understand why we are; and why we need not be so."
—Ronald Hutton, The Independent
 
"Wide-ranging, richly layered and captivating . . . This spectacular intellectual history reminds us that the Reformation grew out of the Renaissance, and provides a compelling glimpse of the cultural currents that formed the background to reform. MacCulloch's magisterial book should become the definitive history of the Reformation."
—Publishers Weekly (starred review)

 "A masterpiece of readable scholarship . . . In its field it is the best book ever written."
—David Edwards, The Guardian

 "From Politics to witchcraft, from the liturgy to sex; the sweep of European history covered here is breathtakingly panoramic. This is a model work of history."
—Noel Malcolm, Sunday Telegraph

"Excellent . . . There are moments of sheer pleasure. . . . MacCulloch's well-paced style makes the book seem half its length."
—Felipe Fernandez-Armesto, The Sunday Times