You are here
Back to top
The Making of Environmental Law (Paperback)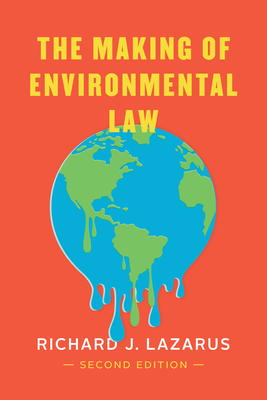 $44.00

Usually Ships in 1-5 Days
Description
---
An updated and passionate second edition of a foundational book.
 
How did environmental law first emerge in the United States? Why has it evolved in the ways that it has? And what are the unique challenges inherent to environmental lawmaking in general and in the United States in particular?  
 
Since its first edition, The Making of Environmental Law has been foundational to our understanding of these questions. For the second edition, Richard J. Lazarus returns to his landmark book and takes stock of developments over the last two decades. Drawing on many years of experience on the frontlines of legal and policy battles, Lazarus provides a theoretical overview of the challenges that environmental protection poses for lawmaking, related to both the distinctive features of US lawmaking institutions and the spatial and temporal dimensions of ecological change. The book explains why environmental law emerged in the manner and form that it did in the 1970s and traces how it developed over sequent decades through key laws and controversies. New chapters, composing more than half of the second edition, examine a host of recent developments. These include how Congress dropped out of environmental lawmaking in the early twenty-first century; the shifting role of the judiciary; long-overdue efforts to provide environmental justice to disadvantaged communities; and the destabilization of environmental law that has resulted from the election of Presidents with dramatically clashing environmental policies. 
 
As the nation's partisan divide has grown deeper and the challenge of climate change has dramatically raised the perceived stakes for opposing interests, environmental law is facing its greatest challenges yet. This book is essential reading for understanding where we have been and what challenges and opportunities lie ahead.  
About the Author
---
Richard J. Lazarus is the Howard and Katherine Aibel Professor of Law at Harvard University, where he teaches courses on environmental law and Supreme Court decision-making. Lazarus has represented the United States, state and local governments, and environmental groups in the United States Supreme Court in more than forty cases and has presented oral arguments in fourteen of those cases. His most recent book is The Rule of Five: Making Climate History at the Supreme Court.