You are here
Back to top
My Name Is Number 4: A True Story from the Cultural Revolution (Paperback)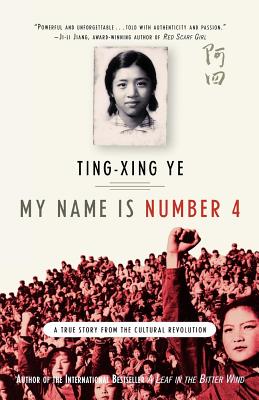 $19.99

Usually Ships in 1-5 Days
Description
---
A powerful and passionate memoir, My Name Is Number 4 is the gripping tale of one girl's life growing up during China's Cultural Revolution.

Number Four will have a difficult life. These are the words that were uttered upon Ting-xing Ye's birth. Soon this prophecy would prove only too true. . . .

Here is the real-life story about the fourth child in a family torn apart by China's Cultural Revolution. After the death of both of her parents, Ting-xing and her siblings endured brutal Red Guard attacks on their schools and even in their home. At the age of sixteen, Ting-xing is exiled to a prison farm far from the world she knows.

How she struggled through years of constant terror while keeping her spirit intact is at the heart of My Name Is Number 4. Haunting and inspiring, Ting-xing Ye's personal account of this horrific period in history is one that no reader will soon forget.
About the Author
---
Ting-xing Ye is the author of the international bestseller A Leaf in the Bitter Wind. Once an English interpreter for the Chinese government, she now lives in Canada.
Praise For…
---
"Powerful and unforgettable...told with authenticity and passion." —Ji-li Jiang, award-winning author of Red Scarf Girl

"Call[s] forth a courage and fortitude...persistence...that are likely the intended lessons for this book's young adult audience." —Washington Post Book World

"Compelling . . . joins such titles as Da Chen's Colors of the Mountain and Moying Li's Snow Falling in Spring to give teens a realistic picture of the way the terror of the Cultural Revolution played out in many people's lives." —School Library Journal

"A true and sobering story of growing up during China's Cultural Revolution. Number 4 puts a human face and a personal story on a brutal time." —St. Louis Post-Dispatch

"Combine[s] clean prose with gritty detail... Teens will be fascinated by the details of Ye's impoverished adolescence, and inspired by her determination to continue her education against all odds. A worthy addition to the growing canon of Cultural Revolution literature." —Kirkus Reviews

"Riveting . . . . The power of this memoir lies not just in the details of this period, but in the honesty of its telling." —The Globe and Mail

"A painful tale, beautifully told!" —Da Chen, bestselling author of Colors of the Mountain

"Engaging for teenagers . . . a story with momentum and suspense." —The Toronto Star