You are here
Back to top
Under a Red Sky: Memoir of a Childhood in Communist Romania (Hardcover)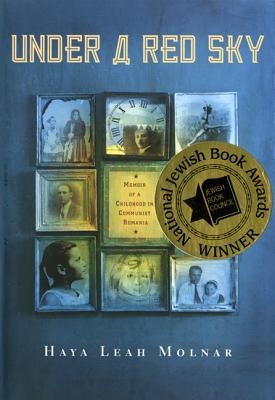 $26.99

Usually Ships in 1-5 Days
Description
---
Eva Zimmermann is eight years old, and she has just discovered she is Jewish. Such is the life of an only child living in postwar Bucharest, a city that is changing in ever more frightening ways. Eva's family, full of eccentric and opinionated adults, will do absolutely anything to keep her safe—even if it means hiding her identity from her. With razor-sharp depictions of her animated relatives, Haya Leah Molnar's memoir of her childhood captures with touching precocity the very adult realities of living behind the iron curtain.

Under a Red Sky is a 2011 Bank Street - Best Children's Book of the Year.
About the Author
---
Born in Bucharest, Romania, Haya Leah Molnar's Jewish identity was hidden from her in order to protect her against anti-Semitism. When she was ten, she and her family escaped the Communist regime and emigrated to Israel, and later to the US. A former copywriter and creative director in advertising, she now writes full time in New York City. In addition to having an eclectic taste for reading other authors, she loves designing her own line of jewelry, gardening, traveling, and kayaking. Under a Red Sky is her first book.
Praise For…
---
"In this rich, insightful memoir, Molnar offers a child's-eye view of life in Romania in the late 1950s. [Her family is] a lively, eccentric bunch brought vividly to life in a simple first-person, present-tense narration.… Black-and-white family photographs illustrate this poignant, memorable memoir." —Kirkus (STARRED)

"As Eva pieces together her family's history, a vivid story emerges; ranging from funny tender moments of family life to the horrific revelations of the Romanian holocaust, about which little has been written….[a] poignant, memorable offering." —Booklist

"Finely wrought moments poignantly render the political and religious complexity of Eva's childhood: her best friend, a Christian, searches Eva's head for horns; her Jewish aunt delivers a Christmas tree; she learns that two Nazis saved her family's lives years earlier. Haunting images and humorous anecdotes combine to powerful effect in this impressive debut.:" —Publishers Weekly (STARRED)

"Under a Red Sky is full of odd, vivid details from a time and place in Europe that seldom figures in books for young adults." —Wall Street Journal

"a readable, informative, and engaging book" —School Library Journal

"Molnar reminiscences about the challenges faced by her Holocaust-surviving elders under a repressive regime, and the confusion she felt upon discovering she was Jewish, at the age of 8, when her parents applied for emigration to Israel." —Tablet