You are here
Back to top
Hush! A Thai Lullaby (Paperback)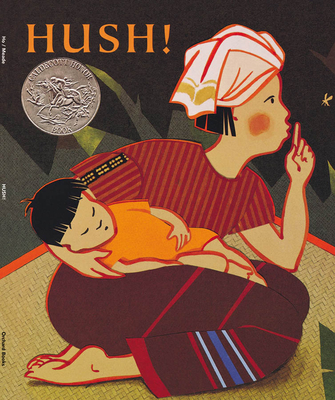 $6.99

Usually Ships in 1-5 Days
Description
---
In an endearing lullaby, a mother asks a lizard, a monkey, and a water buffalo to be quiet and not disturb her sleeping baby.
About the Author
---
Dori Chaconas learned story pacing from an early age while entertaining her younger siblings. The author of such picture books as ON A WINTRY MORNING, ONE LITTLE MOUSE, and MOMMA, WILL YOU?, she lives in Germantown, Wisconsin. Holly Meade has illustrated many acclaimed books for children, including ON MORNING WINGS, THAT'S WHAT FRIENDS ARE FOR, BLUE BOWL DOWN: AN APPALACHIAN RHYME, PEEK! A THAI HIDE-AND-SEEK, and HUSH! A THAI LULLABY, a Caldecott Honor Book. She lives in Sedgwick, Maine.
Minfong Ho was born in Rangoon, Burma, and raised in both Singapore and Bangkok, Thailand. Her parents are of Chinese origin, so she spoke fluent Chinese in her home, Thai in the marketplace of Bangkok and English in school. She was educated in Thailand and Taiwan, before moving to the United States to attend Cornell University in Ithaca, New York. There, she received her BA in Economics and History as well as her M.F.A. in Creative Writing.
While attending Cornell University, Ho began writing her first short story, in an attempt to combat strong feelings of homesickness. She recognized that many Americans had false notions about life in Asia and she set out to change this by writing based on her own experience there. Her first short story eventually evolved into her first novel, Sing to the Dawn, which received first prize from the Council of Interracial Books for Children. Ho's later book Hush! A Thai Lullaby, illustrated by Holly Meade was named a Caldecott Honor Book, an ALA Notable Children's Book and The Horn Fanfare Book.
Ho's more recent children's book, published by Orchard Books in 2003, is The Stone Goddess, one of the books in the First Person Fiction series. Ho gives a realistic, shocking interpretation that still remains appropriate for children. After spending three years in a Khmer Rouge labor camp, Nakri and her older brother are reunited with their family and escape to the refugee camps on the border of Thailand-and eventually, to America. Ho depicts the characters' adjustment struggles and memories of comforting past experiences.
Minfong Ho currently lives in Ithaca, New York with her husband John and children Danfung, MeiMei and Christopher.