You are here
Back to top
French Country Cooking: Meals and Moments from a Village in the Vineyards: A Cookbook (Hardcover)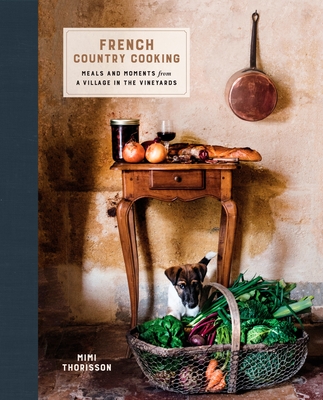 $40.00

Usually Ships in 1-5 Days
Description
---
A captivating journey through off-the-beaten-path French wine country with 100 simple yet exquisite recipes, 150 sumptuous photographs, and stories inspired by life in a small village. 

"Francophiles, this book is pure Gallic food porn." —The Wall Street Journal  

Readers everywhere fell in love with Mimi Thorisson, her family, and their band of smooth fox terriers through her blog, Manger, and debut cookbook, A Kitchen in France. In French Country Cooking, the family moves to an abandoned old château in Médoc. While shopping for local ingredients, cooking, and renovating the house, Mimi meets the farmers and artisans who populate the village and learns about the former owner of the house, an accomplished local cook. Here are recipes inspired by this eccentric cast of characters, including White Asparagus Soufflé, Wine Harvest Pot au Feu, Endives with Ham, and Salted Butter Chocolate Cake. Featuring evocative photographs taken by Mimi's husband, Oddur Thorisson, and illustrated endpapers, this cookbook is a charming jaunt to an untouched corner of France that has thus far eluded the spotlight.
About the Author
---
MIMI THORISSON is the author of A Kitchen in France and Manger, a blog devoted to French cooking and her life in the French countryside. She is the host of the French cooking shows La Table de Mimi and Les Desserts de Mimi. She lives with her husband, their children, and their smooth fox terriers in an old château in St Yzans, in the Médoc region of France.
Praise For…
---
"Like the best French cooking, Mrs. Thorisson's recipes manage to be rich and light at the same time." —The New York Times 

"Amid Mrs. Thorisson's recipes are stories of the home's past, as told to her by previous owners and village old-timers. Readers will learn tales of multiple generations of cooks together in the French country kitchen." —The Wall Street Journal

"Food blogger Mimi Thorisson's life in Médoc is basically a real-life fairytale. If you're tempted to buy a one-way ticket to the south of France after reading her sophomore cookbook, which features 100 delicious recipes peppered with details about how she transformed an old chateau into a homey restaurant, we wouldn't blame you." —InStyle
 
"Francophiles and armchair travelers who loved Dorie Greenspan's Around My French Table and David Lebovitz's My Paris Kitchen will gladly add this classic title to their collections." —Library Journal, starred review

"If you're the sort of person whose idea of fun is watching Chocolat for the hundredth time and fantasizing about renting Julia Child's Provençal farmhouse to cook madelines and cassoulet for your family, then Mimi Thorisson's cookbook, French Country Cooking, is perfect for you. This is the cookbook as daydream, with terribly pretty pictures of women fluttering tablecloths in rustic kitchens, of little girls lugging baskets of produce, of baguettes and Citroëns and vineyards and pans of broiled oysters." —Los Angeles Times

"Blogger and author Mimi Thorisson has a new cookbook out that will kindle a delicious love affair with the cuisine of the French countryside. Starring the best-quality ingredients sourced from small outdoor markets, family-owned purveyors and home gardens, this collection of recipes elevates a simple, humble cuisine to the highest level." —FoodRepublic.com