You are here
Back to top
The Hands On French Cookbook: Connect with French through Simple, Healthy Cooking (A unique book for learning French language) (Paperback)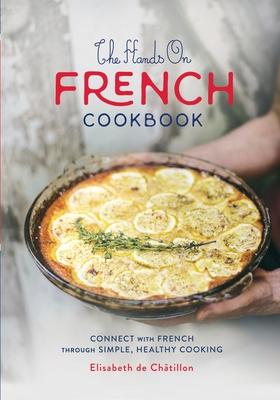 $29.00

Usually Ships in 1-5 Days
Description
---
If you think French food is complicated, decadent, and heavy, think again If you think learning and exploring another language is difficult or boring, think again And if you think cooking French food and learning French at the same time is impossible, teacher and home cook Elisabeth de Ch tillon is here to prove you wrong. It might sound too good to be true, but The Hands On French Cookbook is full of healthy, simple French recipes that you can make for friends and family while you learn not only the French language but also a little bit about French culture in a relaxed, fun, tasty way.
Author's Note: I chose 10 recipes especially for your cooking as well as language lessons. Cooking the recipes will help you actively learn the language: "What the hand does, the mind remembers..." My favorite quote from Maria Montessori. That is why this book has been inspired by TPR (Total Physical Response), a fun, hands-on teaching tool that allows you to learn a language by incorporating specific physical tasks with commands. It's the same way you learned your native language through looking, listening, responding and doing. You can make this cookbook your own. Learn actively some French at your own pace while cooking simple and easy recipes to follow. By the way, since it is a bilingual book in French and English, French readers will also learn English words and phrases.
Some main dish and dessert recipes include:
Crustless Quiche with Yellow Squash, Ricotta and Parmesan
Buckwheat Crepes with Salmon
Potatoes Gratin
Silky Chocolate Mousse
Yogurt Cake
Kings' Galette with Almond Cream
Last but not the least, I wanted readers to hear how to pronounce the French words and phrases, so I recorded myself reading the main recipes in French. To listen to the recordings that go with this book, please visit www.handsonfrench.com. This will help you practice the French pronunciation as you read this book at your own pace.
The Hands On French Cookbook makes a wonderful gift for holidays and birthdays.
"A perfect book for anyone who'd like to recreate the flavors of France in their own kitchen, while improving their language skills." --Linda Lappin, award-winning writer and writing teacher
★★★★★ "This is such a good idea. Lovely, mouth watering recipes written both in English and French. What an exciting way to learn French Such a great idea. The verbs, top tips and photos all mix together to make a very novel way to learn how to cook, whilst also learning some French. Fantastic " --Jackie Oldfield, Educator
★★★★★ "The Hands On French Cookbook is magnifique Author Elisabeth de Ch tillon's background in education is clear as she takes her readers through the mechanics of how they can learn French while cooking the simple but delicious recipes." --Hall Ways Blog