You are here
Back to top
Clive Cussler's The Devil's Sea (Dirk Pitt Adventure #26) (Paperback)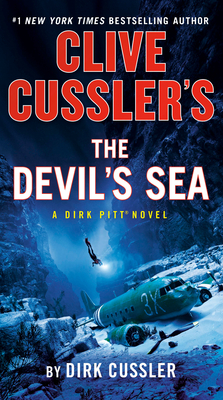 $9.99

Usually Ships in 1-5 Days
Description
---
Fearless adventurer Dirk Pitt must unravel a historical mystery of epic importance in the latest novel in the beloved New York Times bestselling series created by the "grand master of adventure" Clive Cussler.

When NUMA director Dirk Pitt discovers a forgotten plane crash in the Philippine Sea, he unearths clues pointing to an invaluable Buddhist artifact that has been lost for decades. But soon, he will learn that he's not the only one making earthshattering discoveries. During a mission to recover a failed hypersonic missile from Luzon Strait, Pitt finds himself racing against a rogue Chinese military team…who have hijacked a ship strong enough to stir the ocean into a veritable Devil's Sea.

From the cold depths of the Pacific to the dizzying heights of the Himalayas, only Pitt and his children can unravel the mysteries that will preserve a religion, save a nation…and save the world from war.

About the Author
---
Clive Cussler was the author of more than eighty books in five bestselling series, including Dirk Pitt©, NUMA Files©, Oregon Files©, Isaac Bell©, and Sam and Remi Fargo©. His life nearly paralleled that of his hero Dirk Pitt. Whether searching for lost aircraft or leading expeditions to find famous shipwrecks, he and his NUMA crew of volunteers discovered and surveyed more than seventy-five lost ships of historic significance, including the long-lost Civil War submarine Hunley, which was raised in 2000 with much publicity. Like Pitt, Cussler collected classic automobiles. His collection featured more than one hundred examples of custom coachwork. Cussler passed away in February 2020.


Dirk Cussler is the author of Clive Cussler's The Devil's Sea, and coauthor with Clive Cussler of eight previous Dirk Pitt adventures: Black Wind, Treasure of Khan, Arctic Drift, Crescent Dawn, Poseidon's Arrow, Havana Storm, Odessa Sea, and Celtic Empire. He serves as president of NUMA, where he continues his father's legacy of searching for important historical shipwrecks. He lives in Connecticut.

Praise For…
---
"Trouble comes looking for Dirk Pitt and his children, Dirk and Summer, in the strangest and most entertaining ways…The Pitts are all great characters—clever, gutsy, and lucky…Dirk Cussler carries on what his father started in a series that never gets old."−Kirkus Reviews (starred)

"Exciting…Cussler has done his father proud."−Publishers Weekly