You are here
Back to top
Truman (Paperback)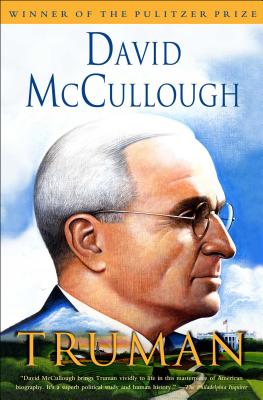 $26.00

Usually Ships in 1-5 Days
Description
---
The Pulitzer Prize–winning biography of Harry S. Truman, whose presidency included momentous events from the atomic bombing of Japan to the outbreak of the Cold War and the Korean War, told by America's beloved and distinguished historian.

The life of Harry S. Truman is one of the greatest of American stories, filled with vivid characters—Roosevelt, Churchill, Stalin, Eleanor Roosevelt, Bess Wallace Truman, George Marshall, Joe McCarthy, and Dean Acheson—and dramatic events. In this riveting biography, acclaimed historian David McCullough not only captures the man—a more complex, informed, and determined man than ever before imagined—but also the turbulent times in which he rose, boldly, to meet unprecedented challenges. The last president to serve as a living link between the nineteenth and the twentieth centuries, Truman's story spans the raw world of the Missouri frontier, World War I, the powerful Pendergast machine of Kansas City, the legendary Whistle-Stop Campaign of 1948, and the decisions to drop the atomic bomb, confront Stalin at Potsdam, send troops to Korea, and fire General MacArthur. Drawing on newly discovered archival material and extensive interviews with Truman's own family, friends, and Washington colleagues, McCullough tells the deeply moving story of the seemingly ordinary "man from Missouri" who was perhaps the most courageous president in our history.
About the Author
---
David McCullough (1933–2022) twice received the Pulitzer Prize, for Truman and John Adams, and twice received the National Book Award, for The Path Between the Seas and Mornings on Horseback. His other acclaimed books include The Johnstown Flood, The Great Bridge, Brave Companions, 1776, The Greater Journey, The American Spirit, The Wright Brothers, and The Pioneers. He was the recipient of numerous honors and awards, including the Presidential Medal of Freedom, the nation's highest civilian award. Visit DavidMcCullough.com.
Praise For…
---
"Meticulously detailed, elegantly written, tightly constructed, rich in revealing anecdotes and penetrating insights. It is, as its subject demands, biography on the grand scale."
-- Jonathan Yardley, The Washington Post

"A warm, affectionate and thoroughly captivating biography....the most thorough account of Truman's life yet to appear. "
-- Alan Brinkley, The New York Times Book Review

"McCullough's marvelous feel for history is based on an appreciation of colorful tales and an insight into personalities. In this compelling saga of America's greatest common-man president, McCullough adds luster to an old-fashioned historical approach...the sweeping narrative, filled with telling details and an appreciation of the role individuals play in, shaping the world."
-- Walter Isaacson, Time

"Remarkable....you may open it at any point and instantly become fascinated, so easy, lucid, and energetic is the narrative and so absorbing the sequence of events."
-- The Economist

"McCullough is a master storyteller whose considerable narrative skills have been put to exquisite use in re-creating the life and times of America's 33rd president."
-- Robert Dallek, Los Angeles Times Book Review