You are here
Back to top
Let's Get Lost: the world's most stunning remote locations (Hardcover)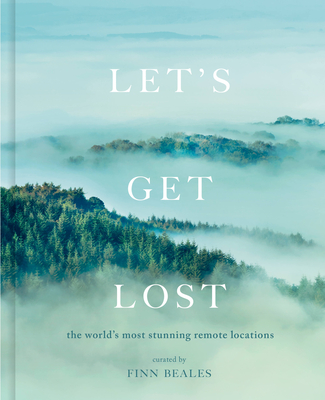 $36.00

Usually Ships in 1-5 Days
Description
---
Get away from it all and reignite your wanderlust with this unique collection of epic landscape photography from some of the remotest and most spectacular locations around the globe.
Curated by
award-winning travel and lifestyle photographer Finn Beales
,
Let's Get Lost
offers pure visual escapism with
over 200 spectacular shots of remote and beautiful places
 which will
inspire you to get back out into the world
after months and years of lockdowns and travel restrictions.
For the adventurous
amongst us,
this book dares you to get off the beaten track andgo in search of the most remarkable natural environments on the planet
. Chapters capturing off-grid coastal views, rugged mountain landscapes, majestic forests and expansive wildernesses are all featured, stirring within you a sense of adventure. From the Pacific Northwest to Southeast Asia, New Zealand to Scandinavia,
these are the places where amazing photos are taken, now you need to experience them
.
For the armchair traveller
, this book represents a
breathtaking visual compendium of how beautiful the world can be
, with truly awe-inspiring full page reproductions of some of instagram's most talented landscape photographers.
Each of the photographers profiled reveal their
unique stories
and the
little-known locations they have discovered
that allow them to capture such breathtaking images, from Chris Burkard's
 perilous tour of Russia's extremities
, and Emilie Ristevski's wanderlust-filled journey through
Namibia's wild heart, 
to Timothy Allen's
airborne search for a long-lost Bulgarian monument
.
Photographers featured:
Finn Beales (finn)
Alex Strohl (alexstrohl)
Jonathan Gregson (jonathangregsonphotography)
Richard Gaston (richardgaston)
Cath Simard (cathsimard)
Emilie Ristevski (helloemilie)
Reuben Wu (itsreuben)
Laura Pritchett (bythebrush)
Lucy Laucht (lucylaucht)
Chris Burkard (chrisburkard)
Molly Steele (moristeele)
Benjamin Hardman (benjaminhardman)
Greg Lecoeur (greg.lecoeur)
Charly Savely (charlysavely)
Timothy Allen (timothy_allen)
Hannes Becker (hannes_becker)
Tobias Hagg (airpixels)
Callum Snape (calsnape)
Nicolee Drake (cucinadigitale)
Holly-Marie Cato (h_cato)
Mads Peter Iversen (madspeteriversen_photography)
About the Author
---
Finn Beales is an award-winning photographer and director, celebrated for his cinematic landscape and lifestyle photography. He travels the world to capture the raw power of nature. His epic shots, that immortalise spellbinding moments in wild, off-grid locations, have earned him a loyal following of over half a million on Instagram, as well as major clients such as Apple, Cartier, Land Rover and Omega. Finn is based in Wales, where he lives with his wife and two children.
Praise For…
---
This is likely to draw in both fans of photography as well as adventure travel seekers looking to add to their bucket list. 'Let's Get Lost' is the perfect gift as it's something to keep on the coffee table and bookshelf for years to come.
—
Client Magazine