You are here
Back to top
Peruvian Power Foods: 18 Superfoods, 101 Recipes, and Anti-aging Secrets from the Amazon to the Andes (Paperback)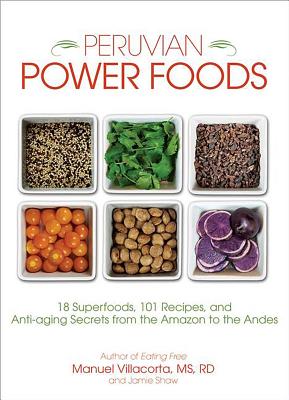 Description
---
While superfoods have entered the health food conversation in recent years, most people are unaware that many of the most powerful foods on the planet hail from Peru. Not only are these foods teeming with healing effects, they are also packed with flavor, transforming ordinary, everyday healthy meals into something extraordinary.
Peruvian Power Foods
introduces the top superfoods from the Andes to the Amazon and their myriad health benefits. Choosing from more than 100 recipes, you'll learn traditional, innovative dishes inspired by one of the most exciting cuisines today, celebrated by chefs around the globe. From super-quick smoothies and energy packed breakfasts to sublime entrees, cocktails, and more, you can satisfy your palate while eating for longevity and vitality. Indulge yourself with:
Breakfast granola made with lucuma, a tangy tropical fruit that helps balance high blood pressure.
Savory white bean hummus made with sacha inchi, a powerful omega-3 for heart health and brain power.
Gluten-free morning bread made with pichuberry, a cancer-fighting, low glycemic, weight-loss-friendly fruit.
Energy-boosting exercise shake made with maca, an anti-inflammatory and antioxidant known as "Nature's Viagra" because it helps potency in men.
Decadent dessert truffles made with antioxidant cacao and camu camu, which packs a power dose of vitamin C to boost immunity.
From Peru to your plate, this power food makeover will allow you to enjoy optimal health and optimal flavor one meal at a time.
About the Author
---
Jamie Shaw is a writer and brand expert. Whether she's reviewing restaurants, blogging about food, leading cooking lessons or consulting on a global line of raw fruit, vegetable and nut juices, this avid gourmand is passionate about merging her two great loves: writing and cooking. Jamie holds an MFA in poetry from San Francisco State University. Manuel Villacorta, MS, RD, is a nationally recognized, award-winning registered dietitian with more than sixteen years of experience. He is a respected and trusted voice in the health, weight loss, and wellness industries. Manuel is the founder of Eating Free, an international weight management and wellness program; national media spokesperson for the Academy of Nutrition and Dietetics (2010-2013); a health blog contributor for The Huffington Post; an on-air contributor for the Univision television network; and a health and lifestyle contributor for Fox News Latino. Manuel is the owner of San Francisco-based private practice MV Nutrition, and he is the recipient of five ''Best Bay Area Nutritionist'' awards from the San Francisco Chronicle, ABC7, and Citysearch. Visit Manuel at www.EatingFree.com.
Praise For…
---
I like the way this book is structured. It reads like a magazine and breaks down each superfood by nutrient and/or what benefits they provide....This book has beautiful photography.—Judy Trinh, Nutritionist