You are here
Back to top
L'Appart: The Delights and Disasters of Making My Paris Home (Paperback)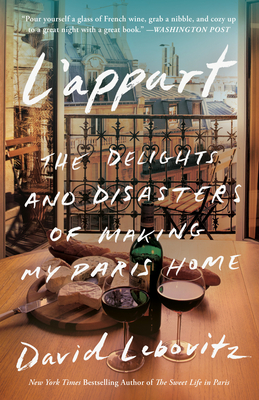 Description
---
Bestselling author and world-renowned chef David Lebovitz continues to mine the rich subject of his evolving ex-Pat life in Paris, using his perplexing experiences in apartment renovation as a launching point for stories about French culture, food, and what it means to revamp one's life. Includes dozens of new recipes.
 
When David Lebovitz began the project of updating his apartment in his adopted home city, he never imagined he would encounter so much inexplicable red tape while contending with perplexing work ethic and hours. Lebovitz maintains his distinctive sense of humor with the help of his partner Romain, peppering this renovation story with recipes from his Paris kitchen. In the midst of it all, he reveals the adventure that accompanies carving out a place for yourself in a foreign country—under baffling conditions—while never losing sight of the magic that inspired him to move to the City of Light many years ago, and to truly make his home there.
About the Author
---
DAVID LEBOVITZ has been a professional cook and baker for most of his life; he spent nearly thirteen years at Berkeley's Chez Panisse until he left the restaurant business in 1999 to write books. He is the author of six books, including My Paris Kitchen, The Perfect Scoop, and The Sweet Life in Paris. David has been featured in Bon Appétit, Food & Wine, Cook's Illustrated, the Los Angeles Times, Saveur, Travel + Leisure, the New York Times, and more. He moved to Paris in 2004 and turned davidlebovitz.com into one of the first phenomenally popular food and living blogs.
Praise For…
---
An NPR Best Book of 2017

"The best thing about this book is that David writes as he talks so it is like having a long conversation with a good friend. Equal parts honest, intriguing, distressing, entertaining, funny and appetizing. Pour yourself a glass of French wine, grab a nibble and cozy up to a great night with a great book."
—Washington Post

"Smartly arch."
—New York Times Book Review

"David Lebovitz hilariously recounts the ups and downs of buying an apartment in the City of Light. Readers will relate to Lebovitz's exploits, from Ikea fails to bureaucratic foibles."
—Real Simple

"Food lovers and travelers alike will fall in love with every single one of the magically charming stories David skillfully recounts."
—Departures Magazine

"Painfully funny... typically charming and occasionally a touch risqué."
—Christian Science Monitor

"Pastry chef David Lebovitz brings his conversational and often wry, self-deprecating voice to his latest book L'Appart."
—Eater

"The book may make you want to never so much as replace a cabinet in your home ever again, but at the same time, it will give you a realistic, yet, somehow still appealing view of what life as a Parisian is really like."
—Signature

"In aworld filled with angst, natural disasters, and politicalstrife, Lebovitz's writing provides a delicious escape."
—NUVO

"Each of the short chapters offers a brief, humorous, occasionally cringe-inducing glimpse into some aspect of the home-buying and remodeling odyssey on which Lebovitz embarks. . . . He expresses true affection both for his adopted home in Paris and for the American values that shape his own outlook and approach."
—BookReporter.com

"Lebovitz's stories shimmer with despair, distress, and regret, but he nevertheless embraces life with all its flaws in the city he loves."
—Publishers Weekly

"Lighthearted... with healthy dashes of satire, wit, and humor…an engaging, entertaining, and delicious divertissement."
—Kirkus Reviews

"Francophile Americans will learn plenty here about Parisian French's often mystifying idioms. Recipes conclude chapters and range from simple chocolate cookies to complex kouign-amman, Brittany's ultrarich, caramelized version of a croissant."
—Booklist

"David captures the torturous travails of apartment renovation in the City of Light with humor and acumen. 'Pas de problème,' he's told time and again as the renovation derails. He is as alert to details of parquet and working with a notaire as he is with recipes for tarte tatin and quiche, both included here. This memoir brings fans of David even closer to the happy life he's built for himself in Paris."
—Jacques Pépin, chef, author, and PBS-TV cooking show host 

"This book is so entertaining and so deliciously told that I could just gobble it all up in one sitting. As always, David Lebovitz managed to draw me into his scrumptious universe with a million poignant observations and countless of laugh-out-loud moments."
—Yotam Ottolenghi, author of Jerusalem, Plenty, and Sweet  

"Written in lovely, lucid prose, the story of David's endeavor to make a home for himself in Paris is unflinchingly honest, often poignant, and frequently hilarious. As he astutely perceives, the great gift of his odyssey is ultimately the wry and very Gallic world view he acquires through the eye-popping challenges of buying and renovating a Paris apartment, and it's this hard-won treasure, along with a shy but steely self-knowledge, that makes L'Appart such a memorably winning read."
—Alexander Lobrano, author of Hungry for Paris and Hungry for France

"David is an incredible storyteller, both in and out of the kitchen. I thoroughly enjoy the authenticity of life in a different country, where every day requires an adjustment and every event is a curve ball. But that's where the joy is: embracing life with a wonderful attitude, seeking exploration and novelty."
—Gabriele Corcos, chef and author of the New York Times bestseller Extra Virgin