You are here
Back to top
The Hitchhiker's Guide to the Galaxy (CD-Audio)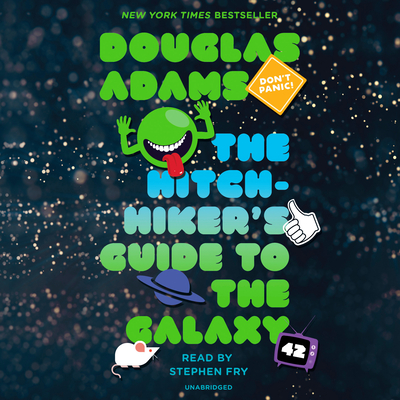 Description
---
NEW YORK TIMES BESTSELLER • "Extremely funny . . . inspired lunacy . . . [and] over much too soon."—The Washington Post Book World

SOON TO BE A HULU SERIES • Now celebrating the pivotal 42nd anniversary of The Hitchhiker's Guide to the Galaxy!

Nominated as one of America's best-loved novels by PBS's The Great American Read

It's an ordinary Thursday morning for Arthur Dent . . . until his house gets demolished. The Earth follows shortly after to make way for a new hyperspace express route, and Arthur's best friend has just announced that he's an alien.

After that, things get much, much worse.

With just a towel, a small yellow fish, and a book, Arthur has to navigate through a very hostile universe in the company of a gang of unreliable aliens. Luckily the fish is quite good at languages. And the book is The Hitchhiker's Guide to the Galaxy . . . which helpfully has the words DON'T PANIC inscribed in large, friendly letters on its cover.

Douglas Adams's mega-selling pop-culture classic sends logic into orbit, plays havoc with both time and physics, offers up pithy commentary on such things as ballpoint pens, potted plants, and digital watches . . . and, most important, reveals the ultimate answer to life, the universe, and everything.

Now, if you could only figure out the question. . . .
About the Author
---
Douglas Adams was born in 1952 and educated at Cambridge. He was the author of five books in the Hitchhiker's Trilogy, including The Hitchhiker's Guide to the Galaxy; The Restaurant at the End of the Universe; Life, the Universe and Everything; So Long, and Thanks for All the Fish; and Mostly Harmless. His other works include Dirk Gently's Holistic Detective Agency; The Long Dark Tea-Time of the Soul; The Meaning of Liff and The Deeper Meaning of Liff (with John Lloyd); and Last Chance to See (with Mark Carwardine). His last book was the bestselling collection, The Salmon of Doubt, published posthumously in May 2002.

You can find more about Douglas Adam's life and works at douglasadams.com.
Praise For…
---
Don't panic! Here are words of praise for The Hitchhiker's Guide to the Galaxy!

"It's science fiction and it's extremely funny...inspired lunacy that leaves hardly a science fiction cliche alive."

Washington Post

"The feckless protagonist, Arthur Dent, is reminiscent of Vonnegut heroes, and his travels afford a wild satire of present institutions."

Chicago Tribune

"Very simply, the book is one of the funniest SF spoofs ever written, with hyperbolic ideas folding in on themselves."

School Library Journal

"As parody, it's marvelous: It contains just about every science fiction cliche you can think of. As humor, it's, well, hysterical."