You are here
Back to top
Freedom Dreams (TWENTIETH ANNIVERSARY EDITION): The Black Radical Imagination (Paperback)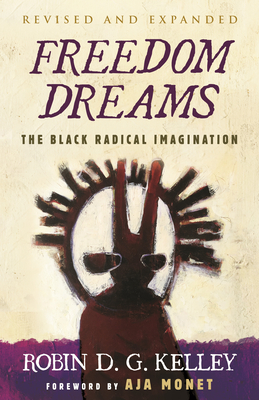 $19.95

Usually Ships in 1-5 Days
Description
---
The 20th-anniversary edition of Kelley's influential history of 20th-century Black radicalism, with new reflections on current movements and their impact on the author, and a foreword by poet Aja Monet

First published in 2002, Freedom Dreams is a staple in the study of the Black radical tradition. Unearthing the thrilling history of grassroots movements and renegade intellectuals and artists, Kelley recovers the dreams of the future worlds Black radicals struggled to achieve.

Focusing on the insights of activists, from the Revolutionary Action Movement to the insurgent poetics of Aimé and Suzanne Césaire, Kelley chronicles the quest for a homeland, the hope that communism offered, the politics of surrealism, the transformative potential of Black feminism, and the long dream of reparations for slavery and Jim Crow.

In this edition, Kelley includes a new introduction reflecting on how movements of the past 20 years have expanded his own vision of freedom to include mutual care, disability justice, abolition, and decolonization, and a new epilogue exploring the visionary organizing of today's freedom dreamers.

This classic history of the power of the Black radical imagination is as timely as when it was first published.
About the Author
---
Robin D. G. Kelley is Distinguished Professor and Gary B. Nash Endowed Chair in U.S. History at UCLA. He is author or co-editor of numerous award-winning books including Thelonious Monk: The Life and Times of an American Original(The Free Press, 2009); Yo' Mama's Disfunktional!: Fighting the Culture Wars in Urban America (Beacon Press, 1997); and Race Rebels: Culture, Politics, and the Black Working Class (The Free Press, 1994), among others.
Praise For…
---
"Based on Kelley's belief that to make a better world we must first imagine it, this brilliantly conceived and written book recounts the accomplishments of Black activists and thinkers over the past century who have been committed to remaking the world."
—Library Journal

"Few books have had a more profound impact on me as a thinker and as a human being than Freedom Dreams."
—Ibram X. Kendi, National Book Award–winning author of How to Be an Antiracist

"Robin D. G. Kelley produces histories of Black radicalism and visions of the future that defy convention and expectation."
—Angela Y. Davis

"Freedom Dreams was a blast of fresh air in the dark days of 2002, and its reissue will have the same effect today when it's even more needed. . . . A handbook of dynamic hope."
—Roxanne Dunbar-Ortiz, author of Not "A Nation of Immigrants": Settler Colonialism, White Supremacy, and a History of Erasure and Exclusion

"Robin D. G. Kelley teaches us that dreams of freedom are all we need and not enough. . . . It's time to read Freedom Dreams again, and again."
—Fred Moten, author of consent not to be a single being

"A bold and provocative celebration of the Black radical imagination in the 20th century."
—Laura Ciolkowski, The New York Times Book Review

"Robin Kelley may well be the hippest intellectual in the land. . . . [He] writes unflinchingly of freedom and love, dreams and visions, revolts of the mind."
—Jason Sokol, The Nation

"From one of the most important thinkers of our time, Freedom Dreams is a tour de force that opens up fresh modes of knowledge and radical possibilities."
—Elizabeth Hinton, author of America on Fire: The Untold History of Police Violence and Black Rebellion Since the 1960s

"Kelley and the Black freedom struggle he chronicles show us once again how to rebuild a politics of desire, of a freedom worthy of the name."
—Sarah Jaffe, author of Work Won't Love You Back