You are here
Back to top
Marsh Mud and Mummichogs: An Intimate Natural History of Coastal Georgia (Paperback)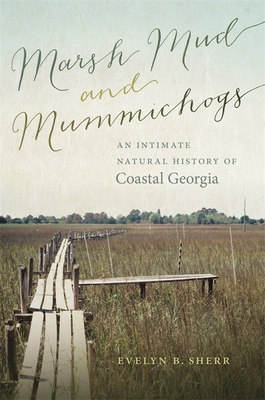 $24.95

Usually Ships in 1-5 Days
Description
---
"This book," writes marine biologist Evelyn B. Sherr, "is meant to give others an understanding of the fascinating life of the region, from the smallest creatures in marsh mud and estuarine water, to the mummichogs and multitudes of other animals that find food and shelter in the vast expanses of marsh grass, in the sounds, and along the beaches of the Georgia Isles." Sherr not only spent years doing research in coastal Georgia, she began her family there. Although Sherr's career would take her around the world, this special place stuck with her. Here she shares her deep knowledge of the remarkable environment that she, her scientist husband, and their two children explored time and again.
Dr. Sherr is the ideal companion with whom to discover coastal Georgia. She points out its swimming, running, flying, drifting, and wriggling wildlife--and tells how it all exists in balance in a landscape subject to its own daily ebbs and flows, its own seasonal cycles. As we learn about Georgia's distinctive intertidal salt marshes, subtidal estuaries, and open beaches and dunes, Sherr reveals the creatures that support--and are supported by--these habitats: the microbes in estuarine water and in marsh mud; the zooplankton swarming in the tidal rivers and sounds; and numerous fish, reptiles, birds, and mammals. This engaging and curiosity-rousing book blends scientific fact with a timely conservation message and anecdotes of a family's encounters with nature.
About the Author
---
EVELYN B. SHERR, an emeritus professor of oceanic and atmospheric sciences at Oregon State University, has published widely in the fields of marine ecology and biogeochemistry. She was a research scientist at the University of Georgia Marine Institute from 1974 to 1990.