You are here
Back to top
Whales (New & Updated) (Hardcover)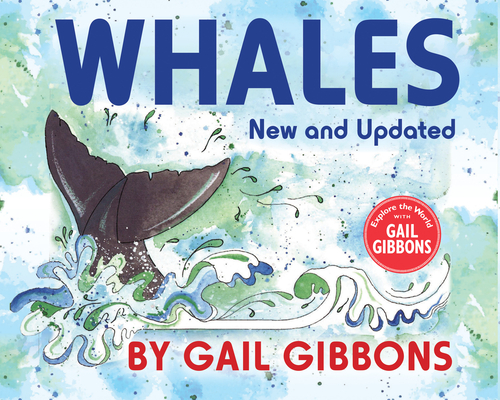 $18.99

Usually Ships in 1-5 Days
Description
---
From the beloved science writer Gail Gibbons, immerse yourself in the sea in this illustrated look at the world's largest mammals for the littlest learners with the latest facts from experts in this new and updated edition.

Did you know that whales breathe air just like people do? How about that a blue whale is one of the biggest mammals that ever lived? Discover these fascinating facts and more in this updated deep-dive into the biology of whales, including the latest information on whale sizes and statistics, how and why some whales use echolocation, and stories of recent whale rescue efforts.



Perfect for young readers studying the natural world, simple text and watercolor art explore the anatomy, evolution, diet, and more of these majestic ocean creatures. Captions identify different species, vocabulary words (with pronunciations), and key facts. A "Whale Tales" section with bonus trivia is included at the end.



Gail Gibbons is a titan in the field of children's nonfiction, having published over 120 nonfiction books for kids, including the Sharks and Sea Turtles, and having sold hundreds of thousands of books. Whales is a vital tool for anyone who wants to begin conversations with kids about the importance of protecting this magnificent species.



This title is part of the Explore the World . . . with Gail Gibbons series, which promotes active learning, good citizenship, and student leadership.


About the Author
---
According to the Washington Post, Gail Gibbons "has taught more preschoolers and early readers about the world than any other children's writer-illustrator." The multi award-winning Gail Gibbons is the author of more than 100 books for young readers, including the best-selling titles From Seed to Plant and Monarch Butterfly. Her many honors include the Regina Medal, the Washington Post/Children's Book Guild Nonfiction Award, and the NSTA Outstanding Science Trade Book Award.