You are here
Back to top
Last Letters from Attu: The True Story of Etta Jones, Alaska Pioneer and Japanese POW (Paperback)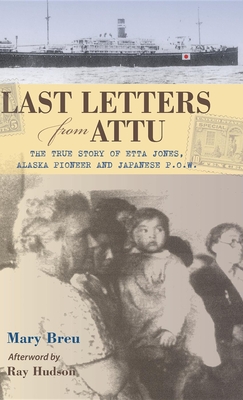 $18.99

Usually Ships in 1-5 Days
Description
---
Etta Jones was not a World War II soldier or a war time spy. She was a school teacher whose life changed forever on that Sunday morning in June 1942 when the Japanese military invaded Attu Island and Etta became a prisoner of war.
Etta and her sister moved to the Territory of Alaska in 1922. She planned to stay only one year as a vacation, but this 40 something year old nurse from back east met Foster Jones and fell in love. They married and for nearly twenty years they lived, worked and taught in remote Athabascan, Alutiiq, Yup'ik and Aleut villages where they were the only outsiders. Their last assignment was Attu.
After the invasion, Etta became a prisoner of war and spent 39 months in Japanese POW sites located in Yokohama and Totsuka. She was the first female Caucasian taken prisoner by a foreign enemy on the North American Continent since the War of 1812, and she was the first American female released by the Japanese at the end of World War II.
Using descriptive letters that she penned herself, her unpublished manuscript, historical documents and personal interviews with key people who were involved with events as they happened, her extraordinary story is told for the first time in this book.
About the Author
---
At the conclusion of her own thirty-four year teaching career, Mary Breu set out to write the story of her great-aunt, Etta Jones. After doing extensive research, Mary used Etta's letters, old photographs, Etta's unpublished manuscript written after her captivity, and her research to write this book. She holds a bachelor's and master's degrees. She lives with her husband Jerry in South Carolina.
Praise For…
---
Etta Jones was a nurse and teacher in the Alaska Bush. She was living on Attu when Japanese took the island in World War II and, with the rest of the civilian population, incarcerated in Japan for the rest of the war. Her letters and photographs have been used by her grand-niece, Mary Breu for this book.
                                                         ---Mike Dunham, Anchorage Daily News