You are here
Back to top
Zulu Shaman: Dreams, Prophecies, and Mysteries (Paperback)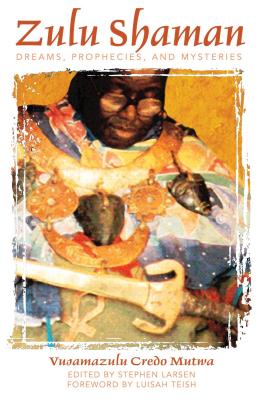 $16.95

Usually Ships in 1-5 Days
Description
---
Offers a rare view into the world of a Zulu shaman

• Includes 14 Zulu myths as told by a traditional Zulu story keeper

• Reveals Zulu shamanic practices, including healing techniques, dreamwork, oracles, prophecy, and interactions with star beings

In this rare window into Zulu mysticism, Vusamazulu Credo Mutwa breaks the bonds of traditional silence to share his personal experiences as a sangoma—a Zulu shaman. Set against the backdrop of post-colonial South Africa, Zulu Shaman relays the first-person accounts of an African healer and reveals the cosmology of the Zulu.

Mutwa begins with the compelling story of his personal journey as an English-trained Christian schoolteacher who receives a calling to follow in his grandfather's footsteps as a shaman and keeper of folklore. He then tells the stories of his ancestors, including creation myths; how evil came to the world; the adventures of the trickster god Kintu; and Zulu relations with the "fiery visitors," whom he likens to extraterrestrials. In an attempt to preserve the knowledge of his ancestors and encourage his vision of a world united in peace and harmony, Mutwa also shares previously guarded secrets of Zulu healing and spiritual practices: including the curing power of the sangoma and the psychic powers of his people.
About the Author
---
Vusamazulu Credo Mutwa (1922–2020) resided in Pretoria, South Africa, near Johannesburg, where he was a sculptor, painter, and teacher of Zulu lore. His book Indaba, My Children has become a classic of African literature.

Stephen Larsen, Ph.D., LMHC, BCIA-eeg, is professor emeritus of psychology at SUNY Ulster, board-certified in EEG biofeedback, and the author of several books, including The Healing Power of Neurofeedback and The Fundamentalist Mind. He is the founder and director of Stone Mountain Center, offering biofeedback, neurofeedback, and psychotherapy treatments. He lives in New Paltz, New York.
Praise For…
---
"There is medicine for the soul here. One feels Credo Mutwa's wonderful humanity and the genius of his people in these stories."
— Luisah Teish, author of Jambalaya and Carnival of the Spirit

"V. Credo Mutwa paints a stunning picture of the complex world of Zulu cosmology and traditions. The colorful array of stories and the science of healing he offers with humility take us into the heart of African ancestral wisdom. His courage in revealing to the world what would otherwise remain hidden commands respect and reverence."
— Malidoma Somé, author of The Healing Wisdom of Africa and Of Water and the Spirit

"Zulu Shaman is a special and fascinating glimpse into an all but vanished world."
— SirReadaLot.org, February 2004

"He weaves a rich tableau of mother godesses and tricksters amidst a climate of discrimination, urbanization and violence."
— Eric Lerner, Ashe!, February 2004

"Mutwa's friendly, personal writing is accesible, making the book suitable for general readers."
— David Paulsen, New Age Retailer, May/June 2004, Vol.18 No.3

". . . the rich amount of folklore and spiritual stories found throughout the book creates a very inviting atmosphere for the reader."
— The Cauldron Brasil, October 2006

"This book is a good addition to the knowledge of African spirituality as well as being a personal account that for sure will benefit the spiritual journeyman from all edges of the compass."
— The Cauldron Brasil, Oct 2006

"I cannot recommend this book enough and tell you to get it as soon as you can and delve into its depths to learn the ways of the Zulu shaman. It is unforgettable and I could easily read it over and probably will in the future."
— Jeffery Pritchett, The Church of Mabus