You are here
Back to top
Never Quit (Young Adult Adaptation): How I Became a Special Ops Pararescue Jumper (Hardcover)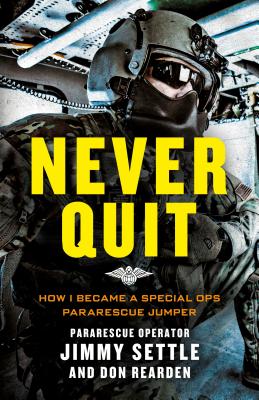 Description
---
The young adult adaptation of the epic memoir of an Alaskan pararescue jumper, Special Forces Operator, and decorated war hero.

"That Others May Live" is a mantra that defines the fearless men of Alaska's 212th Pararescue Unit, the PJs, one of the most elite military forces on the planet. Whether they are rescuing citizens injured and freezing in the Alaskan wilderness or saving wounded Rangers and SEALS in blazing firefights at war, the PJs are some of the least known and most highly trained of America's warriors.

Never Quit is the true story of how Jimmy Settle, an Alaskan shoe store clerk, became a Special Forces Operator and war hero. After being shot in the head during a dangerous high mountain operation in Afghanistan, Jimmy returns to battle with his teammates for a heroic rescue, the bullet fragments stitched over and still in his skull. In a cross between a suicide rescue mission and an against-all-odds mountain battle, his team of PJs risk their lives again in an epic firefight. When his helicopter is hit and begins leaking fuel, Jimmy finds himself in the worst possible position as a rescue specialist—forced to leave members from his own team behind. Jimmy will have to risk everything to get back into the battle and save his brothers.

From death-defying Alaskan wilderness training, wild rescues, and battles against the Taliban and Al Qaeda, this is the true story of how a boy from humble beginnings became an American hero.
About the Author
---
JIMMY SETTLE was born and raised in Alaska. His love of outdoor adventures and a strong desire to help people drew him to the most extreme rescue specialists in the world, the United States Air Force Pararescue, or PJ's for short. Wounded in battle, Jim retired from his position as a PJ. He lives outside of Seattle with his wife and son. H

Jim was awarded an Airman's Medal and Purple Heart with commendations for Valor in Operation Bulldog Bite in Afghanistan, logging 277 hours of Combat Search and Rescue. He is credited for saving 38 lives, and assisting in 28 others in combat, with additional saves and assists in the Alaskan wilderness.

He is the author of Never Quit.
DON REARDEN grew up on the tundra of Southwestern Alaska. An associate professor at the University of Alaska Anchorage, he is a produced screenwriter, a Rasmuson Foundation Project Fellow, and author of
The Washington Post
Notable novel from Penguin,
The Raven's Gift
. He lives in Anchorage, Alaska.
Praise For…
---
"A remarkable, inspiring story of steadfast courage and irrepressible determination." —Kirkus Reviews

"Through Settle's self-effacing narrative, readers learn of the obstacles he faced, including near-impossible situations he had to overcome. Readers will feel his pain....An intriguing and fascinating story, and the fact that it is all true only adds to this fine autobiography. Those seeking a thrilling real-life adventure story similar to Brandon Webb's The Making of a Navy Seal will not be disappointed with this exciting read." —School Library Journal