You are here
Back to top
The Kennedy Heirs: John, Caroline, and the New Generation - A Legacy of Tragedy and Triumph (Hardcover)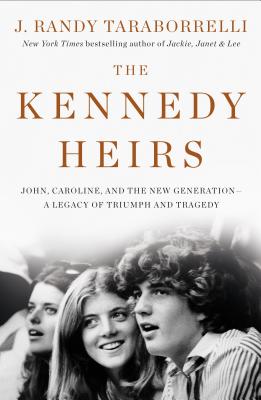 Description
---
From New York Times bestselling author J. Randy Taraborrelli comes The Kennedy Heirs, his most revealing Kennedy book yet.

A unique burden was inherited by the children of President John Fitzgerald Kennedy and his celebrated siblings, Senators Robert and Ted Kennedy. Raised in a world of enormous privilege against the backdrop of American history, this third generation of Kennedys often veered between towering accomplishment and devastating defeat. In his revelatory new book, acclaimed Kennedy historian J. Randy Taraborrelli draws back the curtain on the next generation of America's most famous family.

John Kennedy, Jr.'s life in the public eye is explored, following the Kennedy scion as he faced the challenges posed by marrying his great love, Carolyn Bessette. Riveting new details are shared about the couple's tragic demise—and why Ethel Kennedy advised Carolyn not to take the trip that would ultimately end her life. John's sister, Caroline Kennedy, had her own complicated relationships, including a marriage to Ed Schlossberg that surprised her mother, Jacqueline Kennedy Onassis, and an unexpected bond with her mother-in-law, Mae Schlossberg.

Additional stories, many shared here for the first time, illuminate the rest of the Kennedy dynasty: Kara Kennedy, Ted's daughter, and her valiant battle against lung cancer; how Ted's wife, Vicki, introduced a new era of feminism to the Kennedy family; the lifelong struggles with addiction faced by Bobby Kennedy Jr. and Patrick Kennedy; the unexpected way pop star Taylor Swift helped Conor Kennedy heal after the death of his mother, Bobby's wife Mary; and Congressman Joe Kennedy III's rise to prominence. At the center of it all is the family's indomitable matriarch, Ethel Kennedy—a formidable presence with her maddening eccentricities and inspiring courage.

Based on hundreds of exclusive first-hand interviews and cultivated over twenty years of research—including numerous Oral Histories from the JFK Library and the Edward M. Kennedy Institute—The Kennedy Heirs is an epic drama of ambition, scandal, pride and power.
About the Author
---
J. Randy Taraborrelli is the author of 20 biographies, most of which have become New York Times bestsellers, including: Jackie, Ethel, Joan: Women of Camelot; After Camelot: A Personal History of the Kennedy Family 1968 to the Present, which was adapted as a mini-series for Reelz; and Jackie, Janet & Lee: The Secret Lives of Janet Auchincloss and Her Daughters, Jacqueline Kennedy Onassis and Lee Radziwill, which he is adapting for television.
Praise For…
---
Praise for The Kennedy Heirs:

"Leaves no stone unturned as it retraces the lives of the Kennedy children." —Hollywood Reporter, "Hollywood's Top 10 Beach Reads"

"Taraborrelli has become a leading Kennedy historian…an authoritative, irresistible page-turner." —Shelf Awareness

"Kennedy followers will be intrigued by this absorbing narrative of the dynasty's continuing hold on American life." —Library Journal (starred)

"A dishy group portrait...Kennedy worshippers—and haters—will feast on the juicy details in Taraborrelli's soap opera."—Publishers Weekly

"In this sprawling post-Camelot account, Taraborrelli details the lives of the third generation—the grandchildren of Joe and Rose Kennedy—as they have tried to live up to Kennedy values…No scandal or luxurious dining room goes overlooked. Kennedy die-hards will love it." —Kirkus Reviews

Praise for Jackie, Janet, and Lee (currently being developed for TV by Tomorrow Studios)

"Riveting...Taraborrelli presents a woman of passion, both sexual and emotional, whose facade somehow always remains in place...the magic of Jackie's aura is imperishable to this day...deliciously readable." —New York Times Book Review

"In this revealing biography, Taraborrelli explores the complicated relationship between Jacqueline Bouvier Kennedy Onassis, her mother Janet Lee Auchincloss, and her sister, Princess Lee Radziwill. Though the two sisters became two of the most idolized women of the 20th century, they struggled with sibling jealousy and constantly sought 'money and power'—which their mother told them was 'the secret to happily-ever-after.'" —People magazine, "Best Books About the Kennedy Family"

"Taraborrelli takes an intimate look at the sisters' complicated relationship with [Aristotle Onassis], and reveals for the first time what really happened when Lee learned her sister was marrying Onassis five years after John F. Kennedy's death." —Harper's Bazaar

"Veteran Hollywood biographer J. Randy Taraborrelli, drawing on interviews with family members, reveals how their formidable and hard-nosed mother, Janet Bouvier Auchincloss, sought to mould her daughters in her own ruthlessly mercenary and social-climbing image." —Daily Mail

"Meticulously researched...fascinating and absorbing...Taraborrelli captures the glamorous, tragic, seductive and completely absorbing world of the Kennedys and those who married them. With his bite-size chapters, insightful writing and impeccable research, Taraborrelli's Jackie, Janet & Lee is irresistible, intimate and revealing." —Shelf Awareness

"Taraborrelli's gossipy narrative revels in luxurious decor, stunning outfits, and soap-operatic fights in this entertaining saga of how wealthy, fashionable women got that way." —Publishers Weekly

"A narrative about money and the seemingly unlimited power that goes with it...The aura of Camelot lives on in a book for Kennedy completists and those who enjoy tales of the rich and powerful." —Kirkus Reviews

"Engrossing...An intimate look into the intertwined lives of the Bouvier, Auchincloss, Kennedy, and Radziwill families. Taraborrelli creates a tabloid-style story of money, power, politics, and family—a voyeuristic look into a world of patrician privilege." —Library Journal