You are here
Back to top
Nuts and Bolts: Seven Small Inventions That Changed the World in a Big Way (Hardcover)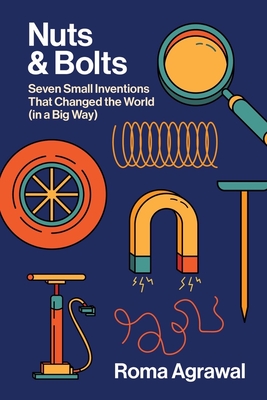 $29.99

Coming Soon - Available for Pre-Order Now
Description
---
Shortlisted for the 2023 Royal Society Science Book Prize



A structural engineer examines the seven most basic building blocks of engineering that have shaped the modern world.
Some of humanity's mightiest engineering achievements are small in scale—and, without them, the complex machinery on which our modern world runs would not exist. In Nuts and Bolts, structural engineer Roma Agrawal examines seven of these extraordinary elements: the nail, the wheel, the spring, the magnet, the lens, the string, and the pump.
Tracing the evolution from Egyptian nails to modern skyscrapers, and Neanderthal string to musical instruments, Agrawal shows us how even our most sophisticated items are built on the foundations of these ancient and fundamental breakthroughs. She explores an array of intricate technologies—dishwashers, spacesuits, microscopes, suspension bridges, breast pumps—making surprising connections, explaining how they work, and using her own hand-drawn illustrations to bring complex principles to life.
Alongside deeply personal experiences, she recounts the stories of remarkable—and often uncredited—scientists, engineers, and innovators from all over the world, and explores the indelible impact these creators and their creations had on society. In preindustrial Britain, nails were so precious that their export to the colonies was banned—and women were among the most industrious nail makers. The washing machine displayed at an industrial fair in Chicago in 1898 was the only machine featured that was designed by a woman. The history of the wheel, meanwhile, starts with pottery, and takes us to India's independence movement, where making clothes using a spinning wheel was an act of civil disobedience.
Eye-opening and engaging, Nuts and Bolts reveals the hidden building blocks of our modern world, and shows how engineering has fundamentally changed the way we live.
About the Author
---
Roma Agrawal, an award-winning structural engineer, has designed bridges, skyscrapers, and sculptures, and worked on London's The Shard, the tallest building in Western Europe. She has lectured widely and has presented TV and radio shows for the BBC and Discovery. She lives in London.
Praise For…
---
A riveting love letter to the small, wonderful, and mundane things that make the modern world.
— Roman Mars, creator and host, 99% Invisible podcast

Agrawal is telling a story not just about great inventions but also about the societies that make and use them and the people who are affected by them.... [Nuts & Bolts] offers a robust history that should speak to scientists' and engineers' sense of social awareness.

— Adam R. Shapiro - Science

A wonderful book that explores the creative and inventive human impulses expressed through engineering…A fascinating tour that brings to life the springs, ratchets, and fibres that make up the machines of our modern age.
— Mark Miodownik, materials scientist, engineer, and author of Stuff Matters

There is passion for engineering on every single page…Roma Agrawal has a special skill of reawakening that part of us that simply wants to understand how the built world works, and to dream of creating our own machines.
— Angela Saini, author of Inferior

Delightful…[T]here is an endless fascination in everyday objects such as springs, wheels and nails, from the physics behind them to simple practical tips…[W]hile it is the enchantingly sophisticated technologies that get all the hype, it's the cheap technologies that change the world.
— Tim Harford, Financial Times

A masterclass in storytelling…Agrawal is the perfect narrator: her curiosity, technical knowledge, and excitement fill every page. It left me inspired by the ingenuity of historic engineers and optimistic for future innovation.
— Jess Wade, physicist and author of Nano

Fascinating stories behind the humble devices that make our human world work, told with an engineer's infectious excitement and enthusiasm for detail.
— Gaia Vince, author of Nomad Century

Inside this wonderfully engaging book is a profound message: that so much of technology comes from ingenious reiterations of just a few innovations in engineering…Roma Agrawal brings these inventions vividly to life.
— Philip Ball, author of The Book of Minds

Essential reading for budding engineers, young and old.
— Anna Ploszajski, materials scientist, engineer, and author of Handmade

A quirky, entertaining riff on the building blocks of engineering.
— Kirkus Reviews