You are here
Back to top
History as They Saw It: Iconic Moments from the Past in Color (Hardcover)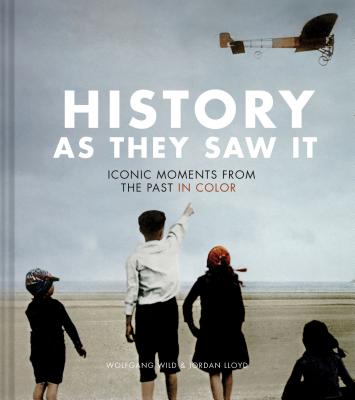 $42.50

Usually Ships in 1-5 Days
Description
---
Step into a time machine and witness some of the most significant events of the late 19th and early 20th century, brought to vivid life in full-color restorations of historic black-and-white photographs.
This revolutionary photography collection is as close to time travel as it gets. Featuring 120 historic black-and-white photographs thoroughly restored and rendered in color, this book illuminates some of the most iconic moments in history, from the sinking of the 
Titanic
 to the construction of the Golden Gate Bridge. Brought to life with vibrant color, these incredible images effectively blur the distinction between past and present and bring history within arm's reach. With a timeline spanning more than 100 years, from 1839 to 1949, this unique collection will amaze history and photography buffs alike, offering new perspectives on significant moments of the 19th and 20th centuries.
MESMERIZING FORMAT: Presented in reverse chronological order, this enchanting book takes you back through time, one stunning colorized photograph at a time. The left margin of each spread features a map and a timeline showing when and where each image was taken, as well as quotes from the time period that also help bring each historical moment to life.
A WONDERFUL GIFT:
History as They Saw It
is a surefire conversation starter and a unique gift for any occasion.  
READERS LOVE IT: With hundreds of 5-star ratings, reviewers rave that "this book changes how I see the past" and note that "the colorization by artist Jordan Lloyd is brilliant . . . and this presentation allows one to see the past much as one's ancestors did."
Perfect for:
Gift givers shopping for history buffs and photography lovers
Fans of Ken Burns, Wes Anderson, and National Geographic
People who enjoy collecting beautiful art, history, and photographic coffee table books
About the Author
---
Jordan Lloyd is the director of Dynamichrome, a team of creative experts dedicated to bringing the past to life through digital color reconstruction. He lives in London.

Wolfgang Wild is a curator and the creator of Retronaut, a brand that seeks to show "the past like you wouldn't believe." He lives near Oxford, England.
Praise For…
---
"Why do we think of history in black and white? Here is the past in vibrant color, restored to the way it ought to be remembered. From the Wright brothers' first flight, to the Titanic, to the construction of the Golden Gate Bridge, this is a remarkable book that re-imagines a century.">
-Aspen Daily News