You are here
Back to top
Co-Active Coaching, Fourth Edition: The proven framework for transformative conversations at work and in life (Paperback)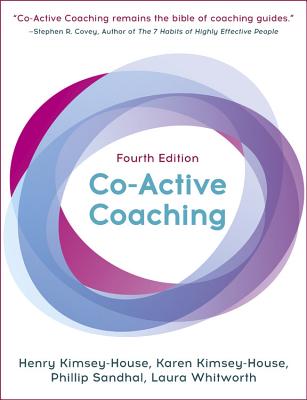 $42.95

Usually Ships in 1-5 Days
Description
---
The book that changed the field of professional coaching forever.

The wait is over! This is the new 4th edition of the cultural and business phenomenon that helped launch the professional practice of coaching!

"The bible of coaching guides ... No other book gives you the tools, the skills, and the fundamentals needed to succeed in these delicate relationships." - Stephen R. Covey, author of The 7 Habits of Highly Effective People
This extensively revised 4th edition of Co-Active Coaching now offers leaders, managers and other business professionals practical guidance for embracing coaching as a core competency to drive greater workplace engagement.

The flexible Co-Active Coaching model showcased in the book has stood the test of time as a transformative communication process that co-workers and teammates, managers, teachers, and students can use to build strong and collaborative relationships.

In this highly anticipated new edition, the authors capture their broader experience in applying the Co-Active approach to leadership and human development. The book reflects today's reality of how coaching has moved beyond its initial focus on life skills to become an integral aspect of successful leadership development. It provides the latest terminology and a variety of fresh coaching examples drawn from the authors' first-hand experiences with thousands of international coaching trainees and clients.

The power-packed on-line Coach's Toolkit has been expanded to include more than 35 exercises, questionnaires, checklists to make these proven principles and techniques accessible and practical. Full of thoughtful exercises, relevant examples and concrete advice, this text is clear, direct, easy to read, and inspiring.

The only book life coaches, business coaches and health coaches will ever need to build stronger relationships and healthier communication.
About the Author
---
Henry Kimsey-House, CPCC is co-founder and head designer of the leading-edge experiential learning programs of The Coaches Training Institute (CTI).

Karen Kimsey-House, MFA, CPCC is co-founder and CEO of The Coaches Training Institute and co-creator of The Co-Active Model. Karen is among the earliest recognized luminaries in the coaching profession. Karen leads CTI workshops and is a popular keynote speaker around the world.

Phillip Sandahl, CPCC, MCC, played an important role in the international growth of the coaching profession and is a pioneer in the field of team coaching. A former senior faculty member of CTI, Phil is co-founder and principal of Team Coaching International.

Laura Whitworth was internationally recognized for her pioneering work in professionalizing the practice of coaching. Named by Professional Coach Journal as one of the 10 most influential coaches in the profession, Laura was the co-founder of CTI along with several other coaching associations and organizations. Laura passed away in 2007 after a long battle with lung cancer.