You are here
Back to top
Webster's New World Dictionary (Paperback)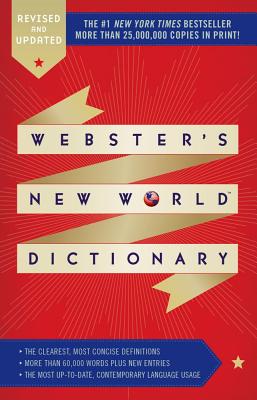 Description
---
The phenomenally popular compact dictionary has been updated for the first time in ten years!

BASED ON WEBSTER'S NEW WORLD™ COLLEGE DICTIONARY, FOURTH EDITION—THE ALL-TIME BESTSELLING PAPERBACK DICTIONARY TODAY!

Now revised and updated, this indispensable dictionary is the perfect reference for school, office, and home.

More than 60,000 entries—covering business, computer, and scientific terms; colloquial, idiomatic, current slang expressions; and more.

Updated and revised biographical database—including new entries of many contemporary figures.

Accessible alphabetical listing for all entries—including prefixes and suffixes, abbreviations, foreign words and phrases, and more.

Concise, easy-to-understand definitions—many revised to reflect the latest research on usage and meaning.

Clear, accurate pronunciation keys—designed for quick, convenient reference.

Updated page design and layout—modern, clear type appeals to the eye and is more user-friendly.

The highest quality, A-to-Z preparation of this edition is supplied by the permanent lexicographical staff of the Webster's New World™ College Dictionary—the word pros who prepared the acclaimed Fourth College Edition, the dictionary of choice for the Associated Press, The New York Times, The Wall Street Journal, Los Angeles Times, and hundreds of other national publications.
About the Author
---
Michael E. Agnes is the principal editor for this new edition of the Webster's New World Compact School and Office Dictionary.
Praise For…
---
Ken Kister Author of Best Dictionaries The best dictionary available.