You are here
Back to top
The Settler Sea: California's Salton Sea and the Consequences of Colonialism (Many Wests) (Paperback)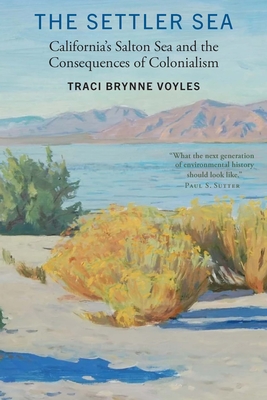 $30.00

Usually Ships in 1-5 Days
Description
---
2022 WHA Caughey Western History Prize for the most distinguished book on the American West

Can a sea be a settler? What if it is a sea that exists only in the form of incongruous, head-scratching contradictions: a wetland in a desert, a wildlife refuge that poisons birds, a body of water in which fish suffocate? Traci Brynne Voyles's history of the Salton Sea examines how settler colonialism restructures physical environments in ways that further Indigenous dispossession, racial capitalism, and degradation of the natural world. In other words, The Settler Sea asks how settler colonialism entraps nature to do settlers' work for them.

The Salton Sea, Southern California's largest inland body of water, occupies the space between the lush agricultural farmland of the Imperial Valley and the austere desert called "America's Sahara." The sea sits near the boundary between the United States and Mexico and lies at the often-contested intersections of the sovereign lands of the Torres Martinez Desert Cahuillas and the state of California. Created in 1905, when overflow from the Colorado River combined with a poorly constructed irrigation system to cause the whole river to flow into the desert, this human-maintained body of water is considered a looming environmental disaster.

The Salton Sea's very precariousness—existing always in the interstices of human and natural influences, between desert and wetland, between the skyward pull of the sun and the constant inflow of polluted water—is both a symptom and symbol of the larger precariousness of settler relationships to the environment, in the West and beyond. Voyles provides an innovative exploration of the Salton Sea, looking to the ways the sea, its origins, and its role in human life have been vital to the people who call this region home.
About the Author
---
Traci Brynne Voyles is an associate professor and chair of women's and gender studies and the director of the Center for Social Justice at the University of Oklahoma. She is the author of Wastelanding: Legacies of Uranium Mining in Navajo Country.
Praise For…
---
"Writing from an environmental justice framework, Voyles (women's and gender studies, Univ. of Oklahoma) presents a detailed environmental history of the area around the Salton Sea, covering early Indigenous people, the coming of the settler colonists, the flora and fauna, the role of dams, insects, prisons, and the military's use of the area. . . . This is a must-read volume for anyone interested in environmental justice."—H. Quintana, Choice

"This book is cutting edge scholarship. It incorporates feminist studies, settler colonialism, carceral studies, and environmental justice into local history. . . . It belongs on the top shelf of histories of southern California."—Benny J. Andrés Jr., Southern California Quarterly

"As an act of intersectional scholarship, The Settler Sea is a remarkable achievement. Voyles is a competent writer with an enviable ability to build a narrative from reams of data, oral histories, census rolls, newspaper accounts and other sources. She gathers many spools of thread and artfully weaves them so the reader sees the links between past and present, the many unintended consequences of colonialism, including the colonization of the Colorado River which sits at the heart of this story, as well as the social and ecological impacts of military bases, corporate agriculture, tourism, and prisons. The picture that emerges by the end of the book is full and complex, but also disturbing when one reflects on the reasons behind all the damage wrought to the region."—Brian Tanguay, California Review of Books

"In this story of the Salton Sea, Voyles paints an unconventional picture of a landscape that has been subject to every kind of abuse the settler state can inflict. It is a cautionary tale that links colonization of people with colonization of nature, refusing to see the two as different. And it reminds us that when we think spatially, centering land in our social narratives, we can more clearly see the inequities imposed by the settler state on racialized others. The Settler Sea is a delight to read, mixing metaphor with fact in a way that reflects the contradictions and ambiguities of the Salton Sea."—Dina Gilio-Whitaker, author of As Long as Grass Grows: The Indigenous Fight for Environmental Justice from Colonization to Standing Rock

"The Salton Sea may seem an odd place to interrogate the history of a settler society that dispossessed Native peoples and transformed the American West, but as Traci Voyles brilliantly shows us, all of the toxic pathologies of the colonial have flowed into and concentrated in this closed desert sink, only to become exposed to view as the shimmering settler dream evaporates. The Settler Sea is what the next generation of environmental history should look like."—Paul S. Sutter, author of Let Us Now Praise Famous Gullies: Providence Canyon and the Soils of the South

"Deeply researched and elegantly written. . . . Through the themes of settler colonialism and border studies, The Settler Sea reveals the ways that the exploitation of the environment in the name of food security through industrial agriculture went hand-in-glove with exploitation of the people and their labor in the Imperial Valley. The result is that the Salton Sea today is both a toxic wasteland from overuse as well as an indispensable natural resource that has endured despite the onslaught."—Maria E. Montoya, author of Translating Property: The Maxwell Land Grant and the Conflict over Land in the American West, 1840–1900

"Traci Brynne Voyles masterfully centers settler colonialism in environmental history, particularly the ways that landscapes and built environments, such as the Salton Sea and its related components, are refigured through settler colonialism to produce settler colonial outcomes. Voyles adeptly draws on many analytical angles to reveal the complexity of the Salton Sea, its complicated ecologies, and its problems."—Joshua L. Reid, author of The Sea Is My Country: The Maritime World of the Makahs

"Drawing on deep research, Voyles analyzes her subject matter brilliantly. Moreover, her prose is evocative, giving the reader a deep sense of both place and change over time. Consistently absorbing, The Settler Sea offers a powerful and disturbing history of a place that illuminates the costs of centuries of colonialism and points to the future. The Settler Sea makes an important contribution to Western history, environmental history, and Native American and Indigenous studies."—Christina Snyder, author of Great Crossings: Indians, Settlers, and Slaves in the Age of Jackson