You are here
Back to top
Barron's Math 360: A Complete Study Guide to Geometry with Online Practice (Barron's Test Prep) (Paperback)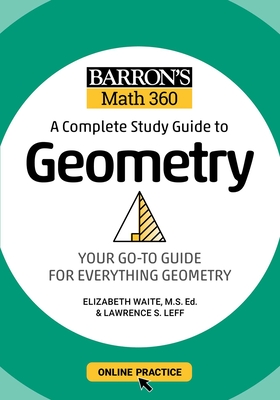 $19.99

Usually Ships in 1-5 Days
Description
---
Barron's Math 360: Geometry is your complete go-to guide for everything geometry
This comprehensive guide is an essential resource for:
High school and college courses
Homeschooling
Virtual Learning
Learning pods
Inside you'll find:
Comprehensive Content Review: Begin your study with the basic building blocks of geometry and build as you go. Topics include, the building blocks of geometry, angle pairs and perpendicular lines, transformation geometry, ratios and proportions, area and volume, and much more.
Effective Organization: Topic organization and simple lesson formats break down the subject matter into manageable learning modules that help guide a successful study plan customized to your needs.
Clear Examples and Illustrations: Easy-to-follow explanations, hundreds of helpful illustrations, and numerous step-by-step examples make this book ideal for self-study and rapid learning.
Practice Exercises: Each chapter ends with practice exercises designed to reinforce and extend key skills and concepts. These checkup exercises, along  with the answers and solutions, will help you assess your understanding and monitor your progress.
Access to Online Practice: Take your learning online for 50 practice questions designed to test your knowledge with automated scoring to show you how far you have come.
About the Author
---
About the Authors
Elizabeth Waite, M.S.Ed., Mathematics Teacher, Union-Endicott Central Schools, Endicott, NY

Lawrence S. Leff, Former Assistant Principal, Mathematics Supervisor, Franklin D. Roosevelt High School, Brooklyn, NY

About the Publisher
In the 1930s, Manuel H. Barron opened a bookstore in Brooklyn, New York. 

People from the community asked Mr. Barron about books that might be available to help their children study for the New York State Regents exams. After realizing there wasn't anything available, Mr. Barron created his own study guides.

80 years later, Barron's has helped millions of people prepare for their next step.