You are here
Back to top
(Not Quite) Mastering the Art of French Living (Paperback)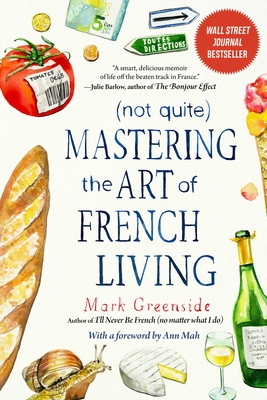 $16.99

Usually Ships in 1-5 Days
Description
---
A Wall Street Journal Bestseller! In the tradition of Peter Mayle's A Year in Provence, let the author of I'll Never Be French introduce you to Brittany a world of color and flavor that most of us only fantasize about.

Every year upon arriving in Plobien, the small Breton town where he spends his summers, American writer Mark Greenside picks back up where he left off with his faux-pas–filled Francophile life. Mellowed and humbled, but not daunted (OK, slightly daunted), he faces imminent concerns: What does he cook for a French person? Who has the right-of-way when entering or exiting a roundabout? Where does he pay for a parking ticket? And most dauntingly of all, when can he touch the tomatoes?

Despite two decades that have passed since Greenside's snap decision to buy a house in Brittany and begin a bi-continental life, the quirks of French living still manage to confound him. Continuing the journey begun in his 2009 memoir about beginning life in France, (Not Quite) Mastering the Art of French Living details Greenside's daily adventures in his adopted French home, where the simplest tasks are never straightforward but always end in a great story. Through some hits and lots of misses, he learns the rules of engagement, how to get what he needs—which is not necessarily what he thinks he wants—and how to be grateful and thankful when (especially when) he fails, which is more often than he can believe.

"This is my world, the Old World that is constantly new to me. I've been coming to France—Brittany—for more than twenty years now, and I'm still trying to master the art of French living. For a guy who likes to think he knows what he's doing, it's been an unexpectedly bumpy ride."

Experienced Francophiles and armchair travelers alike will delight in Greenside's exploring the practical and philosophical questions of French life, vividly brought to life by his humor and affection for his community.
About the Author
---
Mark Greenside has been a civil rights activist, Vietnam War protestor, anti-draft counselor, Vista Volunteer, union leader, and college professor. His stories have appeared in The Sun, The Literary Review, Cimarron Review, The Nebraska Review, Beloit Fiction Journal, The New Laurel Review, Crosscurrents, Five Fingers Review, and The Long Story, as well as other journals and magazines, and he is the author of a short story collection, I Saw a Man Hit His Wife. Greenside' s memoir about life in France, I' ll Never Be French, remains one of the bestselling books about Brittany since its release in 2009. Greenside resides in Alameda, California, and Brittany, France.
Praise For…
---
"A bicontinental life with more pratfalls than a Jerry Lewis movie."—Christine Muhlke, New York Times 

"Failure to speak French has never been so funny! Greenside may never master the gender of French nouns, but he sees straight through the French. A smart, delicious memoir of life off the beaten track in France."—Julie Barlow, author of The Bonjour Effect

"Learning how to shop, drive, and eat in France have their own sets of rules, and (not quite) Mastering the Art of French Living tackles them with a soupçon of humor. From buying a lamp to mastering mollusks (oysters), and learning the right--and wrong ways--things are done in France, Mark Greenside perseveres . . .and succeeds."—David Lebovitz, author of My Paris Kitchen

"Mark Greenside recounts hilarious experiences only a foreigner can have in France, for they're the ordinary things of French life that go unnoticed by the locals yet the funniest of things for someone from the 'outside!'"—Susan Herrmann Loomis, author of On Rue Tatin

"Mark Greenside does an exceptional job of describing the many fish-out-of-water moments of life abroad. He also writes movingly about how his experiences in a new land have changed him. This is a book not to be missed!"—myfrenchlife.org

"Surely the funniest American to land in France since Jerry Lewis, Greenside 'masters' the baffling rules of French life in principle, while mangling them—to hilarious effect—in practice. A delightful pas de deux of humor and wisdom."—William Alexander, author of Flirting with French

"You cannot read this book, without thinking about spending a delicious slice of life in France."—Aileen Bordman, author of Monet's Palate Cookbook

"Hilarious . . . Reminds me of Stephen Clarke's books with its astute observations, wit, and affection for France."—Ann Mah, author of Mastering the Art of French Eating and The Lost Vintage

 "A hilarious look at trying to navigate life in France, literally and figuratively."—Michelle Richmond, author of The Year of Fog, The Marriage Pact, and Golden State

"Thoughtful, heartfelt, and really, really funny."—Keith Van Sickle, author of One Sip at a Time: Learning to Live in Provence

"I recommend this book to anyone looking to read a funny living-abroad memoir!"—Darlene, Bonjour: A Francophile Blog 
 
"Jam-packed with essential information for anyone visiting France or living there."—Janine Marsh, The Good Life France