You are here
Back to top
Walk Toward the Rising Sun: From Child Soldier to Ambassador of Peace (Hardcover)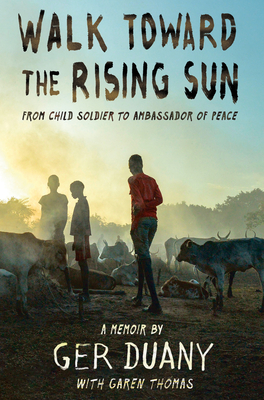 Description
---
The amazing autobiography of a young Sudanese boy who went from a child soldier and struggling refugee to international peace activist and Hollywood actor.

Sudan, 1980s: Ger Duany knew what he wanted out of life--make his family proud, play with his brothers and sisters, maybe get an education like his brother Oder suggested, and become a soldier for his people when he's old enough. But then his village was attacked by the North Sudanese military, death kept taking his loved ones away, and being a child soldier was not what he thought it would be. Amid heartbreak, death, and violence, can this lost boy find his way to safety?

America, 1990s: After boarding a flight without his family to seek refuge in a foreign country, Ger worked tirelessly to adjust to a new life. It wasn't long before he was thrown into the spotlight, as people discovered his talents for basketball, modeling, and acting. Yet the spotlight wasn't the only thing following him, as he battled the effects of PTSD, resisted the siren call of the excesses of fame, and endured a new kind of racism in America. Amid fame, trauma, and the memory of home, can this lost boy find himself?
About the Author
---
Ger Duany is a survivor of the tragic exodus of an estimated 20,000 Sudanese children, the "Lost boys of Sudan," and has been appointed as UN Goodwill Ambassador. Born in the town of Akobo, Ger was caught up in Sudan's north-south civil war and was forcefully recruited as a child soldier. At the age of 14, he managed to escape to neighbouring Ethiopia and was eventually resettled to the United States from the Dadaab refugee camp in Kenya. In 2014, UNHCR helped Ger reunite with his mother and other family members in Kenya's Kakuma refugee camp. He is also a model and actor. To learn more about Ger, his inspiring life story, and his constant work to help refugees around the world, visit GerDuany.com or @GerDuany on Twitter.
Praise For…
---
"An intimate look from a refugee's perspective at the toll war takes." --Kirkus Reviews
"A powerful account"--The Horn Book 
"Duany ­offers a harrowing but ultimately inspiring ­memoir."--School and Library Journal