You are here
Back to top
The Devil's Half Acre: The Untold Story of How One Woman Liberated the South's Most Notorious Slave Jail (Hardcover)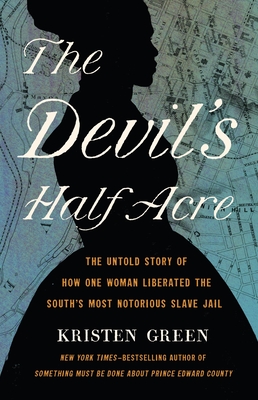 $30.00

Usually Ships in 1-5 Days
Description
---
The inspiring true story of an enslaved woman who liberated an infamous slave jail and transformed it into one of the nation's first HBCUs 
In The Devil's Half Acre, New York Times bestselling author Kristen Green draws on years of research to tell the extraordinary and little-known story of young Mary Lumpkin, an enslaved woman who blazed a path of liberation for thousands. She was forced to have the children of a brutal slave trader and live on the premises of his slave jail, known as the "Devil's Half Acre." When she inherited the jail after the death of her slaveholder, she transformed it into "God's Half Acre," a school where Black men could fulfill their dreams. It still exists today as Virginia Union University, one of America's first Historically Black Colleges and Universities.  
A sweeping narrative of a life in the margins of the American slave trade, The Devil's Half Acre brings Mary Lumpkin into the light. This is the story of the resilience of a woman on the path to freedom, her historic contributions, and her enduring legacy. 
About the Author
---
Kristen Green is a reporter and the author of the New York Times bestseller Something Must Be Done About Prince Edward County, which received the Library of Virginia Literary Award for Nonfiction and the People's Choice Award. She has worked as a writer for two decades for newspapers including the Boston Globe, the San Diego Union-Tribune, and the Richmond Times-Dispatch. She holds a master's in Public Administration from the Harvard Kennedy School, and lives with her husband and two daughters in Richmond, Virginia. 
Praise For…
---
"Green's research offers readers a moving, insightful picture of the families and friendships of enslaved women, those whose stories have long been erased."
 —Kristen Allen-Vogel, Shelf Awareness

"intriguing....Green packs the narrative with vivid details about 19th century Richmond, the domestic slave trade, and the history of Black education in America. This is a valiant and thought provoking attempt to rescue a life lost to history."—Publishers Weekly

"Rescued from the horror of slavery and the neglect of history, Mary Lumpkin's life story in The Devil's Half Acre is one of tenacity, endurance, courage, and achievement."
 —Margot Lee Shetterly, #1 New York Times–bestselling author of Hidden Figures

"A remarkable achievement. With precision and care, Green has reconstructed Mary Lumpkin's life—and so many others—from a historical record that has sought to erase the contributions of Black women at every turn."—Beth Macy, New York Times–bestselling author of Dopesick

"The Devil's Half Acre tells an essential piece of history that deserves to be read by everyone."—Nicole Ari Parker, actor, producer, and parent

"This is the kind of reparative history we need. Truly healing work. My own Ancestors endured this terrible place that was almost forgotten. Its story must be told, and here we have a brilliant beginning."
 —Michael W. Twitty, James Beard Award–winning author of The Cooking Gene

"Harrowing and necessary. In bringing the story of Mary Lumpkin back into the light, Green has provided a powerful service for future generations."—Anna Malaika Tubbs, author of The Three Mothers

"If we the people of the United States truly believe in forming a more perfect union, the unadulterated reality of systemic racism must be told. The Devil's Half Acre is an excellent book for readers looking to understand what life was like for enslaved African Americans like Mary Lumpkin, and to understand the impact that white supremacy has had on America as a whole."—Dr. Johnnetta Betsch Cole, renowned educator, museum professional and diversity and inclusion consultant

"Every Black woman must read the phenomenal book The Devil's Half Acre. It is our story—a true story, an erased story—of sisterhood and resistance. Mary Lumpkin, who rose from slavery, rape and white supremacy-limited education to lay the foundation of one of America's first Historically Black Colleges, should be remembered alongside Harriet Tubman, Sojourner Truth, and Rosa Parks."—Jodie Patterson, author of The Bold World and Chair of The Human Rights Campaign Foundation Board

"Award-winning journalist Kristen Green's meticulously researched book The Devil's Half Acre is an extraordinary and unique portrait of the institution of slavery.  Focused on the hidden, compelling life of enslaved Mary Lumpkin, this is a must-read for anyone committed to understanding the still-invisible aspects of slavery. It is also a story of resistance and the enduring legacies of survivor's contributions and even triumphs."—Beverly Guy-Sheftall, director of the Women's Research & Resource Center at Spelman College, and co-author of Gender Talk