You are here
Back to top
Feral: Losing Myself and Finding My Way in America's National Parks (Hardcover)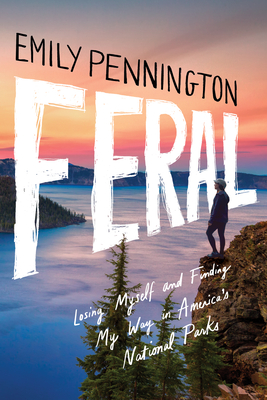 $28.99

Usually Ships in 1-5 Days
Description
---
A bracing memoir about self-discovery, liberating escape, and moving forward across an adventurous and volatile American landscape. One year. One national park at a time.
This is it. No more California. I'm sifting into the underbelly of where the nomads go.
After a decade as an assistant to high-powered LA executives, Emily Pennington left behind her structured life and surrendered to the pull of the great outdoors. With a tight budget, meticulous routing, and a temperamental minivan she named Gizmo, Emily embarked on a yearlong road trip to sixty-two national parks, hell-bent on a single goal: getting through the adventure in one piece. She was instantly thrust into more chaos than she'd bargained for and found herself on an unpredictable journey rocked by a gutting romantic breakup, a burgeoning pandemic, wildfires, and other seismic challenges that threatened her safety, her sanity, and the trip itself.
What began as an intrepid obsession soon evolved into a life-changing experience. Navigating the tangle of life's unexpected sucker punches, Feral invites readers along on Emily's grand, blissful, and sometimes perilous journey, where solitude, resilience, self-reliance, and personal transformation run wild.