You are here
Back to top
Don't Digitise Your Rubbish: Integrate, Simplify, and Systematise Your Operations First (Paperback)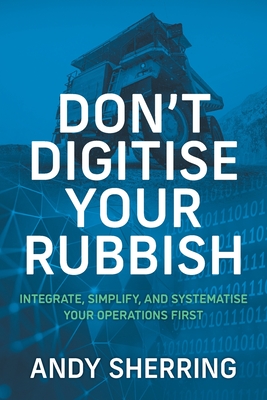 $16.99

Usually Ships in 1-5 Days
Description
---
The mining industry has a problem. It has worthy aspirations for high technology, digitisation, and a progressive performance culture, but it lacks the necessary operating platform to support and enable this. Despite its many successes in a tough working environment, the industry is experiencing declining productivity, and most businesses struggle to achieve stable, predictable operations and continuous, sustainable improvement.
In Don't Digitise Your Rubbish, Andy Sherring explains what lies behind this paradox-why it has occurred; why it is such an important issue right now; what is missing; and how to go about fixing it-presenting a fundamentally better way of setting up operations for short-term and long-term success.
Built on Sherring's extensive thought-leadership in this space, this is the mining industry's definitive book about integration and using it as the vehicle for transformational change. It is an essential step for any business aspiring to true operational excellence. And anyone who is planning for a digital future should read this first.