You are here
Back to top
Culinary Reactions: The Everyday Chemistry of Cooking (Paperback)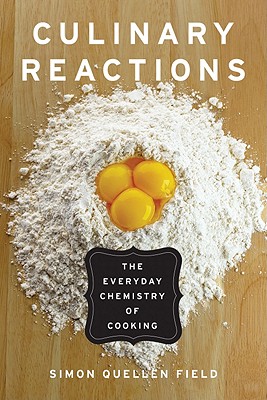 Description
---
When you're cooking, you're a chemist! Every time you follow or modify a recipe, you are experimenting with acids and bases, emulsions and suspensions, gels and foams. In your kitchen you denature proteins, crystallize compounds, react enzymes with substrates, and nurture desired microbial life while suppressing harmful bacteria and fungi. And unlike in a laboratory, you can eat your experiments to verify your hypotheses. 

In Culinary Reactions, author Simon Quellen Field turns measuring cups, stovetop burners, and mixing bowls into graduated cylinders, Bunsen burners, and beakers. How does altering the ratio of flour, sugar, yeast, salt, butter, and water affect how high bread rises? Why is whipped cream made with nitrous oxide rather than the more common carbon dioxide? And why does Hollandaise sauce call for "clarified" butter? This easy-to-follow primer even includes recipes to demonstrate the concepts being discussed, including: Whipped Creamsicle Topping—a foam; Cherry Dream Cheese—a protein gle; Lemonade with Chameleon Eggs—an acid indicator; and more!
About the Author
---
Simon Field is the author of Why There's Antifreeze in Your Toothpaste, Gonzo Gizmos, and The Return of Gonzo Gizmos, and is the creator of the popular Web site www.scitoys.com.
Praise For…
---
"Full of charts, step-by-step photos, structural formulas, and amazing recipes (the cherry cream cheese has me drooling), you will become a better cook without even trying." —MAKE Magazine
"This clear primer to the chemistry of cooking goes well beyond the basics to teach cooks how to improve their results scientifically." —Science News
"The writing style is very personable and he does a great job of illustrating concepts with recipes."      —Smithsonianmag.com

"With information advanced enough to interest the well-seasoned, hard-boiled home cook, the information in this book is written in such a friendly and approachable manner that even beginner kitchen-chemists will be delighted to learn from it."—San Francisco Book Review

"A gateway into the science of food."  —Gastronomica