You are here
Back to top
Bouchon (The Thomas Keller Library) (Hardcover)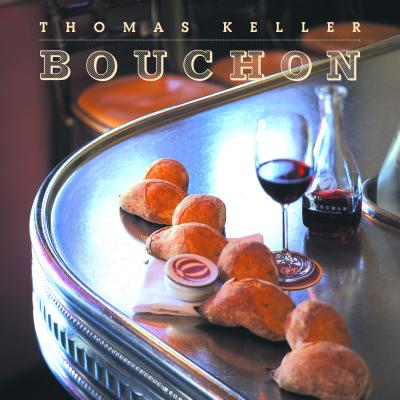 $60.00

Usually Ships in 1-5 Days
Description
---
James Beard Award Winner

IACP Award Winner

Thomas Keller, chef/proprieter of Napa Valley's French Laundry, is passionate about bistro cooking. He believes fervently that the real art of cooking lies in elevating to excellence the simplest ingredients; that bistro cooking embodies at once a culinary ethos of generosity, economy, and simplicity; that the techniques at its foundation are profound, and the recipes at its heart have a powerful ability to nourish and please.

So enamored is he of this older, more casual type of cooking that he opened the restaurant Bouchon, right next door to the French Laundry, so he could satisfy a craving for a perfectly made quiche, or a gratinéed onion soup, or a simple but irresistible roasted chicken. Now Bouchon, the cookbook, embodies this cuisine in all its sublime simplicity.

But let's begin at the real beginning. For Keller, great cooking is all about the virtue of process and attention to detail. Even in the humblest dish, the extra thought is evident, which is why this food tastes so amazing: The onions for the onion soup are caramelized for five hours; lamb cheeks are used for the navarin; basic but essential refinements every step of the way make for the cleanest flavors, the brightest vegetables, the perfect balance—whether of fat to acid for a vinaigrette, of egg to liquid for a custard, of salt to meat for a duck confit.

Because versatility as a cook is achieved through learning foundations, Keller and Bouchon executive chef Jeff Cerciello illuminate all the key points of technique along the way: how a two-inch ring makes for a perfect quiche; how to recognize the right hazelnut brown for a brown butter sauce; how far to caramelize sugar for different uses.

But learning and refinement aside—oh those recipes! Steamed mussels with saffron, bourride, trout grenobloise with its parsley, lemon, and croutons; steak frites, beef bourguignon, chicken in the pot—all exquisitely crafted. And those immortal desserts: the tarte Tatin, the chocolate mousse, the lemon tart, the profiteroles with chocolate sauce. In Bouchon, you get to experience them in impeccably realized form.

This is a book to cherish, with its alluring mix of recipes and the author's knowledge, warmth, and wit: "I find this a hopeful time for the pig," says Keller about our yearning for the flavor that has been bred out of pork. So let your imagination transport you back to the burnished warmth of an old-fashioned French bistro, pull up a stool to the zinc bar or slide into a banquette, and treat yourself to truly great preparations that have not just withstood the vagaries of fashion, but have improved with time. Welcome to Bouchon.
About the Author
---
Jeffrey Cerciello has cooked with Thomas Keller for ten years, first at the French Laundry and since 1998 as executive chef of Bouchon in Yountville, California. Cerciello opened the second Bouchon in Las Vegas, at The Venetian Hotel-Resort-Casino, in spring 2004. He lives in Napa with his wife and two daughters.
Susie Heller, executive producer of PBS's Chef Story, has produced award-winning television cooking series and co-authored numerous award-winning books, among them The French Laundry Cookbook by Thomas Keller and Bouchon by Thomas Keller and Jeffrey Cerciello. She lives in Napa, California.
Thomas Keller is the author of The French Laundry Cookbook, Bouchon, Under Pressure, Ad Hoc at Home, and Bouchon Bakery. He is the first and only American chef to have two Michelin Guide three-star-rated restaurants, The French Laundry and per se, both of which continue to rank among the best restaurants in America and the world. In 2011 he was designated a Chevalier of the French Legion of Honor, the first American male chef to be so honored. In 2017, as part of the Ment'or Foundation—established with chefs Jérôme Bocuse and Daniel Boulud—Keller led Team USA to win gold at the Bocuse d'Or competition in Lyon, France, for the first time ever.
Deborah Jones's recent honors include Best Photography in a Cookbook from the James Beard Foundation for her work in Bouchon. A frequent contributor to national magazines, she conducts a parallel commercial career from her San Francisco studio.
Michael Ruhlman is the author of The Elements of Cooking, The Soul of a Chef, and The Making of a Chef: Mastering Heat at the Culinary Institute of America, among others.
Praise For…
---
"It may be the best cookbook ever about bistros and bistro food."
—The New York Times