You are here
Back to top
The Everything Reading Music: A Step-By-Step Introduction To Understanding Music Notation And Theory (Everything®) (Paperback)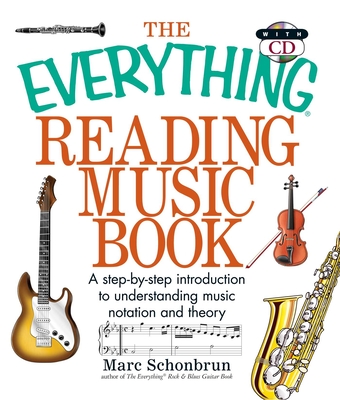 Description
---
Read and play music in no time!
Have fun learning to read music with this easy-to-follow guide.
The Everything Reading Music Book
has all it takes for you to quickly master and appreciate the fundamentals of music notation and theory so you can read and understand music like a pro. Filled with hundreds of examples and a bonus CD bringing the essential lessons to life, this is the all-in-one handbook you need to learn fast!
Get the skills you need to read music like an expert with:
Detailed descriptions of how to understand rhythm, rests, meter and time
The key to reading expression markings, dynamics and other essential symbols
How to form scales, chords, intervals, key signatures and other vital theory topics
Chord progressions in all keys from basic to advanced progressions
Demystification of instrument transpositions
Instrument ranges, common foreign language terms and much more
Applications to all instruments and every style of music
Sheets of music can be intimidating - music is another language! But
The Everything Reading Music Book
has all you need to speak fluently.
About the Author
---
Marc Schonbrun is an educator, writer, and performer in the San Francisco Bay Area. Marc's musical resume ranges from classical to jazz trio and rock concerts. He is an active lecturer on guitar and music technology, and he frequently tours the country educating musicians and teachers. He is the author of several books on music, including The Everything Reading Music Book with CD, The Only Guitar Book You'll Ever Need, The Everything Music Theory Book with CD, and The Everything Essential Music Theory Book, among others. He lives in San Jose, CA.