You are here
Back to top
Personality and Power: Builders and Destroyers of Modern Europe (Hardcover)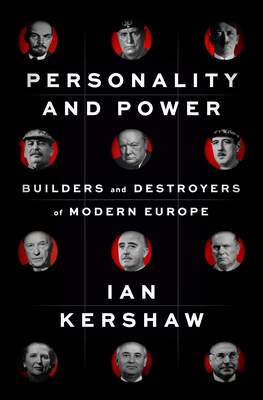 $30.00

Usually Ships in 1-5 Days
Description
---
One of New York Magazine's Most Anticipated Books of the Fall

How far can a single leader alter the course of history?

From one of the leading historians of twentieth-century Europe and the author of the definitive biography of Hitler, Personality and Power is a masterful reckoning with how character conspired with opportunity to create the modern age's uniquely devastating despots—and how and why other countries found better paths. The modern era saw the emergence of individuals who had command over a terrifying array of instruments of control, persuasion and death. Whole societies were reshaped and wars were fought, often with a merciless contempt for the most basic norms. At the summit of these societies were leaders whose personalities somehow enabled them to do whatever they wished, regardless of the consequences for others.

Ian Kershaw's new book is a compelling, lucid and challenging attempt to understand these rulers, whether those operating on the widest stage (Lenin, Stalin, Hitler, Mussolini) or with a more national impact (Tito, Franco). What was it about these leaders, and the times in which they lived, that allowed them such untrammelled and murderous power? And what brought that era to an end? In a contrasting group of profiles—from Churchill to de Gaulle, Adenauer to Gorbachev and Thatcher to Kohl)—Kershaw uses his exceptional skills as an iconic historian to explore how strikingly different figures wielded power.
About the Author
---
Ian Kershaw, author of To Hell and Back, The End, Fateful Choices, and Making Friends with Hitler, is a British historian of twentieth-century Germany noted for his monumental biographies of Adolf Hitler. In 2002, he received his knighthood for services to history. He is a fellow of the British Academy, the Royal Historical Society, the Wissenschaftskolleg zu Berlin, and the Alexander von Humboldt-Stiftung in Bonn, Germany.
Praise For…
---
"[A] Deft and thoughtful work of synthesis." —Wall Street Journal

"Illuminating . . . an insightful series of essays about 12 exceptional leaders who stood at the centre of Europe's 20th century." —Financial Times

"Sir Ian Kershaw, the great (in both senses) biographer of Adolf Hitler, makes an important contribution to this debate . . . persuasive and nuanced pen-portraits . . . well-researched, well-written and thought-provoking." —Daily Telegraph
 
"Lucid portraits of the leaders who shaped Europe's 20th century . . . There is much to be admired in Kershaw's cogent and astute analysis." —The Observer

"Enlightening and stimulating . . . These excellent in-depth profiles of major figures and their influence on millions of people help us better understand why the world is as it is today." —BookPage

"Through sharp profiles of key figures, Kershaw provides an important framework for understanding power and how it is used." —Kirkus

"Striking an expert balance between personality profiles and political and social analysis, this is a rewarding study of a turbulent century in European history." — Publishers Weekly
 
"Few historians are better qualified to answer these questions than Ian Kershaw ... As always, he proves a splendid miniaturist, expertly sketching personalities and philosophies in a few coolly judged lines ... If Kershaw's book has a contemporary lesson, it is that societies are probably happiest and healthiest when leaders matter least." —Sunday Times (UK)