You are here
Back to top
The Imago Sequence and Other Stories (Paperback)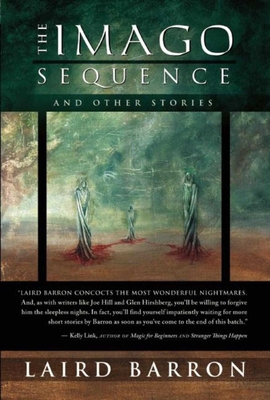 $16.95

Usually Ships in 1-5 Days
Description
---
To the tradition of eldritch horror pioneered and refined by writers such as H.P. Lovecraft, Peter Straub, and Thomas Ligotti comes Laird Barron, an author whose literary voice invokes the grotesque, the devilish, and the perverse with intensity and astonishing craftsmanship.

Collected here for the first time are nine terrifying tales of cosmic horror, including the World Fantasy Award-nominated novella "The Imago Sequence," the International Horror Guild Award-nominated "Proboscis," and the never-before-published "Procession of the Black Sloth." Together, these stories, each a masterstroke of craft and imaginative irony, form a shocking cycle of distorted evolution, encroaching chaos, and ravenous insectoid hive-minds hidden just beneath the seemingly benign surface of the Earth.

With colorful protagonists, including an over-the-hill CIA agent, a grizzled Pinkerton detective, and a failed actor accompanying a group of bounty hunters, Barron's stories are resonant and authentic, featuring vulnerable, hard-boiled tough guys attempting to stand against the stygian wasteland of night. Throughout the collection, themes of desolation, fear, and masculine identity are played out against the backdrop of an indifferent, devouring cosmos.

Skyhorse Publishing, under our Night Shade and Talos imprints, is proud to publish a broad range of titles for readers interested in science fiction (space opera, time travel, hard SF, alien invasion, near-future dystopia), fantasy (grimdark, sword and sorcery, contemporary urban fantasy, steampunk, alternative history), and horror (zombies, vampires, and the occult and supernatural), and much more. While not every title we publish becomes a New York Times bestseller, a national bestseller, or a Hugo or Nebula award-winner, we are committed to publishing quality books from a diverse group of authors.
About the Author
---
Laird Barron: Laird Barron is the author of two collections: The Imago
Sequence, and Occultation. His work has appeared in
many magazines and anthologies. An expatriate Alaskan,
Barron currently resides in the wilds of Upstate New York.
Praise For…
---
WINNER OF THE 2007 SHIRLEY JACKSON AWARD FOR BEST COLLECTION

"One of my favorite writers, period. ... one of the most unique and accomplished prose talents now working in America. He writes dangerous stories, in something I've described as like a cross between H.P. Lovecraft and James Dickey ... Very much like crack to my brain."
—Nic Pizzolatto, creator of HBO's True Detective

"[Barron's] successfully transposed the oddly yoked pleasure and dread of Lovecraft's work to a modern and more complex idiom with skillful craftsmanship, intelligence, and a fertile, detailed imagination."
— William Mingin, Strange Horizons

"When a horror story really works for me, I throw the book against the wall with a shriek and hide behind the sofa. Then, trembling, and in tears I crawl across the floor in supplication and pick up where I left off. Laird Barron does this to me."
—Christopher Hsiang, io9.com

"Barron's dark and haunting fiction also frequently draws on the tradition of hard-boiled detectives and noir that are clear influences on True Detective. The Imago Sequence, his first collection, is a great place to start."
—Buzzfeed

"Laird Barron is one of those writers who makes other writers want to break their pencils. I'm serious. His work is that good. Worse than that, he's an original (damn him!), and the finest writer to join the ranks of the dark fantastic in a long, long time."
—Norman Partridge, author of Dark Harvest and Lesser Demons

"Relentlessly readable, highly atmospheric, sharply and often arrestingly written—Barron's prose style resembles, by turns, a high-flown Jim Thompson mixed with a pulp Barry Hannah."
—Slate

"The scariest writer on the planet has to be Laird Barron."
—Paul Goat Allen, The Barnes & Noble Book Blog

"Laird Barron has, in a remarkably short period of time, emerged as one of the leading writers of contemporary weird fiction."
—S. T. Joshi

WINNER OF THE 2007 SHIRLEY JACKSON AWARD FOR BEST COLLECTION

"One of my favorite writers, period. ... one of the most unique and accomplished prose talents now working in America. He writes dangerous stories, in something I've described as like a cross between H.P. Lovecraft and James Dickey ... Very much like crack to my brain."
—Nic Pizzolatto, creator of HBO's True Detective

"[Barron's] successfully transposed the oddly yoked pleasure and dread of Lovecraft's work to a modern and more complex idiom with skillful craftsmanship, intelligence, and a fertile, detailed imagination."
— William Mingin, Strange Horizons

"When a horror story really works for me, I throw the book against the wall with a shriek and hide behind the sofa. Then, trembling, and in tears I crawl across the floor in supplication and pick up where I left off. Laird Barron does this to me."
—Christopher Hsiang, io9.com

"Barron's dark and haunting fiction also frequently draws on the tradition of hard-boiled detectives and noir that are clear influences on True Detective. The Imago Sequence, his first collection, is a great place to start."
—Buzzfeed

"Laird Barron is one of those writers who makes other writers want to break their pencils. I'm serious. His work is that good. Worse than that, he's an original (damn him!), and the finest writer to join the ranks of the dark fantastic in a long, long time."
—Norman Partridge, author of Dark Harvest and Lesser Demons

"Relentlessly readable, highly atmospheric, sharply and often arrestingly written—Barron's prose style resembles, by turns, a high-flown Jim Thompson mixed with a pulp Barry Hannah."
—Slate

"The scariest writer on the planet has to be Laird Barron."
—Paul Goat Allen, The Barnes & Noble Book Blog

"Laird Barron has, in a remarkably short period of time, emerged as one of the leading writers of contemporary weird fiction."
—S. T. Joshi