You are here
Back to top
The Kimchi Cookbook: 60 Traditional and Modern Ways to Make and Eat Kimchi (Hardcover)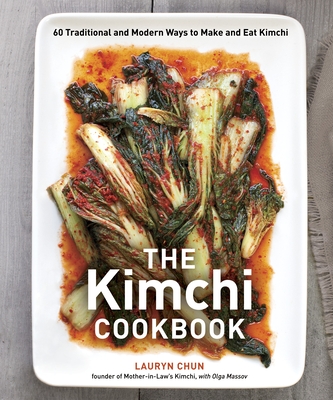 $22.00

Usually Ships in 1-5 Days
Description
---
60 recipes and tips for creating and cooking with kimchi will add a kick of flavor to any plate.
 
Following traditional kimchi-making seasons and focusing on produce at its peak, this bold, colorful cookbook walks you step by step through how to make both robust and lighter kimchi. Lauryn Chun explores a wide variety of flavors and techniques for creating this live-culture food, from long-fermented classic winter kimchi intended to spice up bleak months to easy-to-make summer kimchi that highlights the freshness of produce and is ready to eat in just minutes.
 
Once you have made your own kimchi, using everything from tender and delicate young napa cabbage to stuffed eggplant, you can then use it as a star ingredient in Chun's inventive recipes for cooking with kimchi. From favorites such as Pan-Fried Kimchi Dumplings and Kimchi Fried Rice to modern dishes like Kimchi Risotto, Skirt Steak Ssam with Kimchi Puree Chimichurri, Kimchi Oven-Baked Baby Back Ribs, and even a Kimchi Grapefruit Margarita, Chun showcases the incredible range of flavor kimchi adds to any plate.
 
With sixty recipes and beautiful photographs that will have you hooked on kimchi's unique crunch and heat, The Kimchi Cookbook takes the champagne of pickles to new heights.
About the Author
---
LAURYN CHUN is the founder of Mother-in-Law's Kimchi, a line of artisan kimchi based on an original recipe from Jang Mo Jip ("Mother-in-Law's House"), her mother's beloved restaurant in Garden Grove, California. From her mother's kitchen to work in the fine dining and wine industries, Chun's deep love for food and wine led her from the Rhône Valley and Spain to Italy's hills, where she worked harvesting grapes. While living in New York City, she recognized the beauty of Korea's tradition of handcrafted kimchi, which inspired her to launch Mother-in-Law's Kimchi in 2009.
 
OLGA MASSOV is a Brooklyn-based food writer whose blog, sassyradish.com, has been recognized by Serious Eats, Saveur, theKitchn.com, Smithsonian, and the Huffington Post, among others. Her love of kimchi and fish sauce knows no bounds.
Praise For…
---
"[Lauryn Chun's] primer, The Kimchi Cookbook, takes the traditional Korean condiment to new heights, showcasing its versatility as both a simple pickled vegetable and complex flavor enhancer."
—New York Daily News
 
"Chun's book has a recipe for just about any type of kimchi you could think of, from spicy napa and daikon blends to more creative and modern pickles made from butternut squash, French butter radishes, and even tomatoes. Anyone familiar with Chun's New York-based kimchi company, Mother-in-Law's Kimchi, should be pleased to find many of her signature recipes tucked throughout the book. On top of all of the pickle recipes, Chun also includes about two dozen recipes for using up all those jars of kimchi you'll accumulate, since eating kimchi straight from the jar (no shame) may eventually grow old." 
—Serious Eats
 
"The Kimchi Cookbook: 60 Traditional and Modern Ways to Make and Eat Kimchi is a beautifully photographed, easily readable collection that not only takes on the kimchi we all know and love--made from Napa cabbage, radishes, and the like--but also weaves in Chun's tale of growing up in the culture."
—OC Weekly
 
"Korean culture and cuisine have clearly gone mainstream, so the timing seems perfect for the release of Lauryn Chun's The Kimchi Cookbook…which highlights the versatility of Korea's omnipresent spicy fermented vegetable dish." 
—Los Angeles magazine

"If you thought that cabbage was the be-alland end-all of kimchi, Lauryn Chun will quickly prove you wrong. From the quick satisfaction of Cucumber and Chive Kimchi to long-aged bachelor radishes, this book will have you fermenting every season's vegetable crop, and then show you inventive ways to cook with what you make."
—Willy Blackmore, Los Angeles editor of TastingTable.com
 
"As an enthusiastic kimchi eater, I've long wished for someone to teach me how to create all those interesting, zippy flavors at home. The Kimchi Cookbook is just the thing for home canners who want to take their food preservation beyond traditional jams and vinegar pickles. Lauryn Chun's recipes for tangy, bright, and bubbly kimchi are approachable and make a world of fermented foods seem firmly within our grasp."
—Marisa McClellan, author of Food In Jars and creator of FoodInJars.com