You are here
Back to top
Tamales: Fast and Delicious Mexican Meals [A Cookbook] (Hardcover)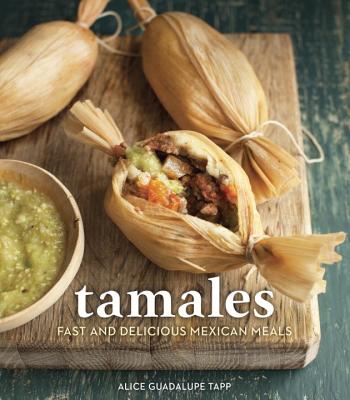 Description
---
A cookbook for making delicious, inventive, and fast tamales using time-saving tips and tricks that simplify the prep-intensive traditional process.

Tamales are a Mexican favorite, beloved year-round as well as at Christmas, when the whole family traditionally pitches in with the work of tamale preparation and assembly. Thanks to renowned tamalera Alice Guadalupe Tapp, it's now possible to enjoy these delicious treats with a lot less labor. Tapp has worked her tamale magic to turn the classic process on its head by paring it down to three to four steps that can be done in as little as forty-five minutes using handy tips, products, and tools. All sixty dishes in the book are naturally gluten free, and include both classic tamale recipes—such as Chicken Mole, Sirloin Beef, and Fresh Poblano and Potato tamales—and novel recipes such as Chorizo and Egg, Oxtail, and Baked Fig tamales. With this book, tamales are fast and easy enough to enjoy every day, and delicious enough to serve at any celebration.
About the Author
---
When ALICE GUADALUPE TAPP was only seven years old, she began helping her grandmother make tamales to sell after Sunday mass. Now Alice is co-owner (with her daughter, Tamara) of Tamara's Tamales in Marina Del Rey, California. She is the author of Tamales 101.
Praise For…
---
"This is a fabulous, modern approach to the wonderful world of tamales, with easy to understand techniques and tasty, creative recipes." 
– Mark Miller, author of Tacos