You are here
Back to top
The People's Constitution: 200 Years, 27 Amendments, and the Promise of a More Perfect Union (Hardcover)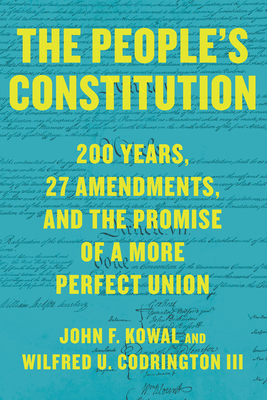 $29.99

Usually Ships in 1-5 Days
Description
---
The 233-year story of how the American people have taken an imperfect constitution--the product of compromises and an artifact of its time--and made it more democratic
Who wrote the Constitution? That's obvious, we think: fifty-five men in Philadelphia in 1787. But much of the Constitution was actually written later, in a series of twenty-seven amendments enacted over the course of two centuries. The real history of the Constitution is the astonishing story of how subsequent generations have reshaped our founding document amid some of the most colorful, contested, and controversial battles in American political life. It's a story of how We the People have improved our government's structure and expanded the scope of our democracy during eras of transformational social change.
The People's Constitution is an elegant, sobering, and masterly account of the evolution of American democracy.
From the addition of the Bill of Rights, a promise made to save the Constitution from near certain defeat, to the post-Civil War battle over the Fourteenth Amendment, from the rise and fall of the "noble experiment" of Prohibition to the defeat and resurgence of an Equal Rights Amendment a century in the making, The People's Constitution is the first book of its kind: a vital guide to America's national charter, and an alternative history of the continuing struggle to realize the Framers' promise of a more perfect union.
About the Author
---
Wilfred U. Codrington III is an assistant professor of law at Brooklyn Law School and a fellow at the Brennan Center for Justice at the NYU School of Law. His teaching and scholarship focus on constitutional law, election law, race, and antidiscrimination. Prior to joining the Brooklyn Law School, Codrington was an adjunct assistant professor of public service at New York University's Wagner Graduate School of Public Service, an associate at DLA Piper, LLP, and a law clerk for Hon. Deborah A. Batts, U.S.D.J. A graduate of Brown University, the University of Pennsylvania's Fels Institute of Government, and Stanford Law School, he lives in New York City.John F. Kowal, a former director of grantmaking initiatives at the Ford Foundation and Open Society Foundations, is vice president for programs at the Brennan Center for Justice at NYU School of Law, where he is responsible for coordinating and guiding the organization's programs on democracy, justice, and liberty and national security. Kowal writes on issues of constitutional law and democracy reform. He lives in New York City.