You are here
Back to top
The ABCs of the Grateful Dead (Hardcover)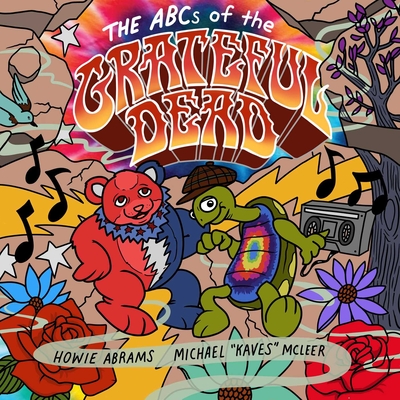 $19.99

Usually Ships in 1-5 Days
Description
---
An alphabetical history of rock 'n' roll's most iconic band…the Grateful Dead.

Featuring playful rhymes and glorious illustrations, The ABCs of the Grateful Dead celebrates the band's rich and dynamic history. Each letter of the alphabet highlights a significant moment, cultural contribution, or innovation along the band's journey, from their groundbreaking release of American Beauty to their pioneering Wall of Sound, from the beloved dancing bears to their singular community of tape traders.

This delightfully kaleidoscopic look back on the Grateful Dead will entertain first-time readers as well as diehard fans of all ages.

The Grateful Dead is a social and musical phenomenon that grew into a genuine American treasure. In 1965, an entire generation was linked together by common ideals, gathering by the hundreds and thousands. This movement created a seamless connection between the band and its fans. As the band toured, Dead Heads would follow. Not because it was a part of popular culture, but because it is a true counterculture that exists to this very day-one that earnestly believes in the value of its beliefs. By 1995, the Grateful Dead had attracted the most concert goers in the history of the music business, and today remain one of the all-time leaders in concert ticket sales. Eventually, the caravan evolved into a community with various artists, craftsmen and entrepreneurs supplying a growing demand for merchandise that connected them to the music. Today, the connection is as strong as ever. The band was inducted into the Rock & Roll Hall Of Fame in 1994 and received a Grammy® Lifetime Achievement Award in 2007. Their final tally of 2,318 total concerts remains a world record. The Grateful Dead recently celebrated their 53rd top 40 album on the Billboard chart, a feat no other group has achieved.
About the Author
---
Howie Abrams is a former music business executive turned author. He co-authored The ABCs of Metallica and Finding Joseph I: An Oral History of H.R. from Bad Brains, and has written The Merciless Book of Metal Lists, Misfit Summer Camp: 20 Years on the Road with the Vans Warped Tour, Hip-Hop Alphabet, and Hip-Hop Alphabet 2.

Michael "Kaves" McLeer is a legendary graffiti artist, the author of Skin Graf: Masters of Graffiti Tattoo, and illustrator for The ABCs of Metallica, Hip-Hop Alphabet, and Hip-Hop Alphabet 2. He has created logos and graphics for world renowned artists such as the Beastie Boys and brands the likes of Jaguar and Gretsch Guitars. He is an MC in the hip-hop/rock group Lordz of Brooklyn.
Praise For…
---
"Unique, original, fun, The ABCs of the Grateful Dead offers a fascinating and entertainingly kaleidoscopic look back on the Grateful Dead that will have a very special appeal to young first-time readers—as well as diehard fans of all ages! The ABCs of the Grateful Dead is especially recommended for family, elementary school, and community library ABC collections in general, and dedicated Grateful Dead fans of any age in particular."
— Midwest Book Review