You are here
Back to top
Pressure Canning for Beginners: A Step-by-Step Guide with 50 Recipes (Paperback)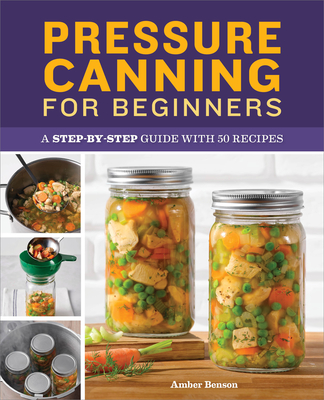 Description
---
Learn to create delicious canned foods at home from a Master Food Preserver!
Nothing says "home sweet home" like a pantry filled with homemade relishes, veggies, meats, and stews. If you're ready to preserve some of your favorite foods in your own kitchen,
Pressure Canning for Beginners
is the perfect place to start. This complete beginner's guide walks you through the mechanics step by step, teaching you how to keep shelf-stable ingredients on hand for flavorful meals anytime.
The power of pressure canning—Get started with guidance from a Master Food Preserver and a breakdown of why pressure canning lets you preserve a greater variety of foods than other canning methods.
Keep it simple—Find 50 recipes that are easy to follow and quick to put together, with clear instructions and no more than 10 ingredients.
Can and preserve safely—Learn how to take the proper safety and sanitary precautions while canning to ensure your creations stay healthy and tasty!
Give the gift of canned goods—Delight your friends, family, and neighbors with tasty snacks and handy meals that are beautifully packaged and ready to share.
Recipes Include:
Southern Corn Relish, Spiced Glazed Carrots, Hearty Stewed Beef, Fire-Roasted Tomato and Red Pepper Pesto, White Bean and Mushroom Soup, Mango Chicken Curry, and more!
Master a traditional method of food preservation and eat seasonal items all year round with this ultimate resource for first-time canners.
About the Author
---
AMBER BENSON is a certified Master Food Preserver. She has also worked in the restaurant and food industry for 20 years and is most passionate about local growers, food systems, and eating delicious foods with incredible folks. Amber has staged for James Beard Award winning chefs, trained as a pit master in Houston, Texas, rolled burritos for a living, worked on an organic pear and cherry farm, and owns a custom blend spice business.
Praise For…
---
"Food waste is a huge contributor to climate change and Pressure Canning for Beginners gives you an easy and accessible way to fight the good fight. Learn how to pressure can your favorites with her step-by-step instructions and try out some the delicious recipes—you won't be disappointed!" — Jerry James Stone, award-winning YouTube chef

"As someone brand new to pressure canning, I appreciate the accessible and fun approach laid out in this book! Benson's expertise regarding the science of pressure canning and her knowledge of food safety provided me with the confidence to trust the process! As an added bonus, I love that all of the recipes can be made for quick, healthy meals for busy people looking to eat healthier!" — Amanda Lechner, author and illustrator

"Pressure Canning for Beginners is the culmination of Amber Benson's eighteen-year journey to becoming an expert in pressure canning through research, certification, and teaching. Her passion for food preservation and clear scientific approach make this book enjoyable for anyone looking to safely preserve their own delicious creations." — Andrea Pons, cookbook author and food stylist