You are here
Back to top
Norco '80: The True Story of the Most Spectacular Bank Robbery in American History (Paperback)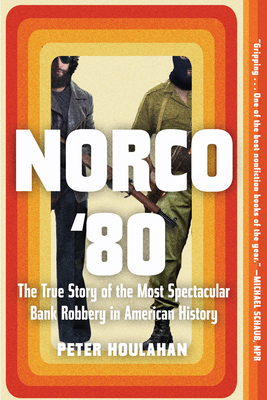 $17.95

Usually Ships in 1-5 Days
Description
---
5 young men. 32 destroyed police vehicles. 1 spectacular bank robbery. This "cinematic" true crime story transports readers to the scene of one of the most shocking bank heists in U.S. history—a crime that's almost too wild to be real (The New York Times Book Review).

Norco '80 tells the story of how five heavily armed young men—led by an apocalyptic born–again Christian—attempted a bank robbery that turned into one of the most violent criminal events in U.S. history, forever changing the face of American law enforcement. Part action thriller and part courtroom drama, this Edgar Award finalist for Best Fact Crime transports the reader back to the Southern California of the 1970s, an era of predatory evangelical gurus, doomsday predictions, megachurches, and soaring crime rates, with the threat of nuclear obliteration looming over it all.

In this riveting true story, a group of landscapers transforms into a murderous gang of bank robbers armed to the teeth with military–grade weapons. Their desperate getaway turns the surrounding towns into war zones. And when it's over, three are dead and close to twenty wounded; a police helicopter has been forced down from the sky, and thirty–two police vehicles have been completely demolished by thousands of rounds of ammo. The resulting trial shakes the community to the core, raising many issues that continue to plague society today: from the epidemic of post–traumatic stress disorder within law enforcement to religious extremism and the militarization of local police forces.
About the Author
---
Peter Houlahan is a freelance writer contributing to a wide range of publications. In his career as an emergency medical technician, he has written a number of articles related to his profession. He holds an MFA from Sarah Lawrence College. A native Southern Californian, Houlahan now lives in Fairfield County, Connecticut. Find out more at www.peterhoulahan.com.
Praise For…
---
One of NPR's Best Books of the Year
Short–listed for the 2020 Dashiell Hammett Award for Literary Excellence in Crime Writing
Nominated for the 2020 Edgar Award for Best Fact Crime


"Gripping . . . Houlahan, who based his account of the robbery and its aftermath on interviews with the civilians, officers and robbers involved, proves to be a master at pacing—he writes with a narrative urgency that perfectly captures the quick and chaotic nature of the robbery. His prose incorporates the vernacular of the officers and criminals; it's hard–boiled, shot through with profanity, but never forced. It reads like a crime novel in the best way possible. But what's truly remarkable about the book is the depth Houlahan brings to the story . . . With his first book, Houlahan proves himself to be an astonishingly gifted writer, breathing urgent life into a true story that still resonates today. Norco '80 is a fascinating true–crime account that seems likely to be one of the best nonfiction books of the year." —Michael Schaub, NPR

"[An] alarming account of a bank heist that rocked the country in 1980 and reflected 'the peculiar zeitgeist of that decade' in all its cockeyed drama . . . For a first–time writer, Houlahan sure knows how to dramatize a scene. His cinematic treatment of the robbery itself reads like wildfire, the fatal shootout with the police ends in colorful chaos, and the huge manhunt through San Bernardino National Forest conducted by 'Hunt & Kill Teams' is a nail–biter." —Marilyn Stasio, The New York Times Book Review

"Compelling action scenes, a riveting trial, and lots of detail and observation make this one a standout in true crime." —Amazon Books

"This story is a wild ride and a real page turner . . . One of those incredible true crime stories that grab one's attention and does not let go until the last page." —Thomas McClung, New York Journal of Books"Like American Heiress in the summer of 2016, this looks like the true crime book that will launch a hundred conversations." ―CrimeReads, One of the Most Anticipated Crime Books of Summer

"In Houlahan's capable hands, this unbelievable–but–true chase and gun battle unfolds at a relentless pace and in riveting, cinematic detail . . . Houlahan's thorough reporting and in–the–moment narrative make Norco '80 a wild, full–throttle ride." —Dean Jobb, Ellery Magazine

"[An] action–packed and thought–provoking read." —She Reads, One of the Best Nonfiction Books of the Year

"Norco '80 is an expertly rendered accounting of these events that reads like a crime thriller and courtroom drama, with all the brutal gravity of a true story. This is true crime at its best." —David M. Olsen, The Coachella Review

"[A] deeply researched, thrillingly paced tale." —Peter Larsen, Southern California News Group

"Norco '80 blends meticulous details with a strong sense of story arc, character and place . . . Addressing the origins of the push to arm police with higher–caliber weapons, the increasingly strained relationships between police officers and their communities, and the effects of trauma on multiple generations, the book has a universal message that is needed now, according to Houlahan." —Jo Kroeker, Greenwich Time

"[A] thrilling nonfiction book . . . In Houlahan's talented hands, the whole story is as urgent and real as if you were watching it live on TV. He also takes readers through the trial phase, which is as fascinating as fiction but all too true . . . Read Houlahan's book now. You'll love it." —Ken Raymond, The Oklahoman

"Thrilling account of a violent California bank robbery . . . Houlahan's debut is remarkable for the exhaustive . . . level of detail he brings to every stage of the story, transforming a pulpy true–crime narrative into a reflection of social transformations and class conflict as the countercultural 1970s faded into the Reagan era . . . An impressively well–rendered true–crime saga." —Kirkus Reviews

"Norco '80 is enthrallingly detailed, down to the pencils thrown by opposing counsel in the criminal trial that followed 'the most spectacular bank robbery in American history.' Despite the depth and breadth recounted by journalist and EMT Peter Houlahan, the urge this book generates in readers to explore further this devastating true crime is impossible to suppress . . . Houlahan has admirably mined and winnowed the boundless material . . . He has compellingly translated a high–octane story to the page without losing traction, leaving the reader satisfied yet craving more." —Lauren O'Brien, Shelf Awareness (starred review)