You are here
Back to top
Outdoor Survival Skills (Paperback)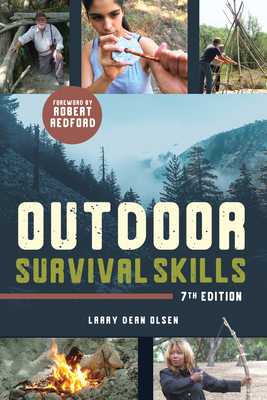 $18.99

Usually Ships in 1-5 Days
Description
---
"The author has devoted a lifetime to learning and mastering the ways of the wilderness. . . . His concepts have been proven by the more than 10,000 students..." —Booklist 
Newly updated to include color photos throughout, this timeless survival guide is refreshed to appeal to new outdoors enthusiasts  
Outdoor Survival Skills has taught generations of wilderness adventurers how to survive in nature without expensive purchased equipment, instead drawing on knowledge of the land and carefully tested techniques, many of them ancient, for finding or creating shelter, fire, tools, water, and plant and animal foods.  
Anecdotes from the author's lifetime of experience provide thrilling examples of the skills and attitudes that ensure survival outdoors.  
In this newest edition, updated text is accompanied by color photos to help both veteran and novice outdoor explorers embrace their survival skills.  
About the Author
---
Larry Dean Olsen wrote the outdoor survival merit badge requirements for the Boy Scouts of America and was technical advisor for the film Jeremiah Johnson. His award-winning courses in primitive living were sponsored by institutions in the United States and Canada and he was the founder of Anasazi, a youth wilderness rehabilitation program.
Praise For…
---
"The author has devoted a lifetime to learning and mastering the ways of the wilderness. . . . His concepts have been proven by the more than 10,000 students who have successfully participated in his wilderness laboratories." —Booklist

"My first how-to survival book; I carried it around as a teen, learned to make cordage, tried to start a fire from scratch, tried to make a bow, dug a solar still and had a great deal of fun with it. It was always in my car. Somehow, I still own it." —Lou Cadle, Goodreads

"Extraordinarily informative. As someone who reads and practices a lot of the skills in these books, this definitely stretched the limits of what I already knew and taught me a lot while staying succinct enough to not put me to sleep as so many books like this are prone to do. Definitely recommended for any survival enthusiast." — Dante Carlisle, Goodreads