You are here
Back to top
Plastic Soup: An Atlas of Ocean Pollution (Hardcover)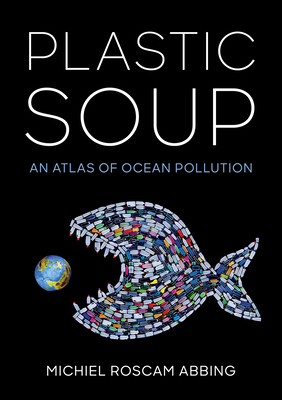 Description
---
Plastics have transformed every aspect of our lives. Yet the very properties that make them attractive—they are cheap to make, light, and durable—spell disaster when trash makes its way into the environment. Plastic Soup: An Atlas of Ocean Pollution is a beautifully-illustrated survey of the plastics clogging our seas, their impacts on wildlife and people around the world, and inspirational initiatives designed to tackle the problem. 

In Plastic Soup, Michiel Roscam Abbing of the Plastic Soup Foundation reveals the scope of the issue: plastic trash now lurks on every corner of the planet. With striking photography and graphics, Plastic Soup brings this challenge to brilliant life for readers. Yet it also sends a message of hope; although the scale of the problem is massive, so is the dedication of activists working to check it. Plastic Soup highlights a diverse array of projects to curb plastic waste and raise awareness, from plastic-free grocery stores to innovative laws and art installations. 

According to some estimates, if we continue on our current path, the oceans will contain more plastic than fish by the year 2050. Created to inform and inspire readers, Plastic Soup is a critical tool in the fight to reverse this trend.

About the Author
---
Michiel Roscam Abbing is a political scientist who has been active in the battle against plastic soup since 2011 with the Plastic Soup Foundation (PSF), one of the leading international groups fighting plastic pollution. He reports on scientific research and current developments online at plasticsoupfoundation.org and lectures about plastic soup in the Netherlands and around the world.
 
Praise For…
---
"Brings the problem of single-use plastics to life with shocking photography...The book shows just how widespread and deeply ingrained the problem is."
— Independent

"Abbing's 124-page investigation into how plastic has damaged our environment, polluted our waterways, and impacted our wildlife is essential reading."
— Otago Daily Times

"This atlas depicting the environmental crisis of plastic pollution focused on our oceans should be part of every school curriculum to arouse awareness of this global problem and to rouse this coming generation to explore and generate possible solutions, to resolve the current damage inflicted by technology, and to discover means to avoid further environmental contamination."
— Seattle Book Review

"Created to inform and inspire readers, Plastic Soup is a critical tool... a seminal and ground-breaking work that will hold intense interest for environmentalists and unreservedly recommended."
— Midwest Book Review

"[A] comprehensive and attractive book that will hopefully help turn the tide against single-use plastic and humanity's tendency to treat the oceans as a dustbin."
— Eden

"Abbing intelligently highlights the unforeseen consequences of our everyday lives... Plastic Soup is an empowering educational tool with maps and figures plus many feasible solutions for all issues related to pollution and waste."
— Electronic Green Journal

"Plastic Soup is well-written, beautifully illustrated and it highlights the magnitude and extent of this pervasive global marine plastic pollution problem. Plastic Soup is a critical tool in the fight to help reverse plastic pollution. Copies of this book belong in school and university libraries around the world."
 
— Ocean Yearbook

"The for­mat of the book makes it easy to read, providing a valuable tool for people seeking to learn more about the plastics issue. Throughout, heart-wrenching im­ages bring home very effectively the message of the damage plastic has done to our planet and wildlife.… I would recom­mend this book to anyone who is interested in learn­ing more about plastics or for those, like me, who are trying to teach others and could use a resource jam-packed with information."
 
— Canadian Field Naturalist