You are here
Back to top
Right of Way: Race, Class, and the Silent Epidemic of Pedestrian Deaths in America (Paperback)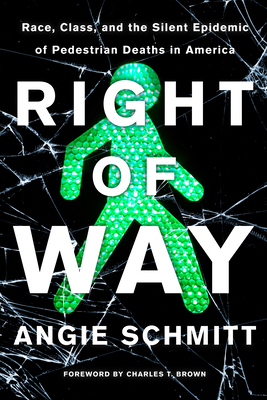 Description
---
The face of the pedestrian safety crisis looks a lot like Ignacio Duarte-Rodriguez. The 77-year old grandfather was struck in a hit-and-run crash while trying to cross a high-speed, six-lane road without crosswalks near his son's home in Phoenix, Arizona. He was one of the more than 6,000 people killed while walking in America in 2018. In the last ten years, there has been a 50 percent increase in pedestrian deaths.

The tragedy of traffic violence has barely registered with the media and wider culture. Disproportionately the victims are like Duarte-Rodriguez—immigrants, the poor, and people of color. They have largely been blamed and forgotten.

In Right of Way, journalist Angie Schmitt shows us that deaths like Duarte-Rodriguez's are not unavoidable "accidents." They don't happen because of jaywalking or distracted walking. They are predictable, occurring in stark geographic patterns that tell a story about systemic inequality. These deaths are the forgotten faces of an increasingly urgent public-health crisis that we have the tools, but not the will, to solve. 

Schmitt examines the possible causes of the increase in pedestrian deaths as well as programs and movements that are beginning to respond to the epidemic. Her investigation unveils why pedestrians are dying—and she demands action.  Right of Way is a call to reframe the problem, acknowledge the role of racism and classism in the public response to these deaths, and energize advocacy around road safety. Ultimately, Schmitt argues that we need improvements in infrastructure and changes to policy to save lives.

Right of Way unveils a crisis that is rooted in both inequality and the undeterred reign of the automobile in our cities. It challenges us to imagine and demand safer and more equitable cities, where no one is expendable.
About the Author
---
Angie Schmitt is one of the country's best known writers and experts on the topic of sustainable transportation. She was the long-time national editor at Streetsblog. Her writing and commentary have appeared in the New York Times, The Atlantic, and National Public Radio. She is the founder and principal at 3MPH Planning and Consulting, a small firm focused on pedestrian safety. She lives in Cleveland with her husband and two children.
 
Praise For…
---
"In a book that will sit comfortably on the shelf next to Ralph Nader's Unsafe at Any Speed, Schmitt provides an exhaustively researched study of the intersection of automobiles and pedestrians…[Right of Way] bravely exposes the human cost of public and political indifference toward pedestrian safety."
— Kirkus Reviews

"An exposé drawing upon comprehensive reporting to articulate the root causes of a public health crisis." 
— USA Today

"In a thoughtful, accessible style, Schmitt examines the factors contributing to rising pedestrian deaths and offers practical solutions to help make America's streets safer and more walkable."
— Shelf Awareness

"An excellent new book"
— Planetizen

"There are many reasons to read Right of Way… Schmitt is one of the very best contemporary journalist-advocates writing on the built environment, whose skills are most obvious when digging beneath the numbers to tell the stories of humanity, not only to the illuminating the faces and lives of the departed, but also to the specific design and political failures that allow this carnage to continue unabated."
— Planetizen: Top Urban Planning Books of 2020

"Right of Way shines a light on the distressing spike in pedestrian fatalities in the United States and documents why this epidemic has not proceeded uniformly across the country but instead has disproportionately devastated low-income communities and people of color....A poignant through-line of [the book] is the care with which victim's stories are told. The author sensitively transforms statistics on pedestrian fatalities into vignettes that remind the reader of the pain that each crash leaves, from small children to the woman who became the first pedestrian ever killed by a self-driving
car."
— Journal of the American Planning Association

"[Right of Way] boldly weaves many heart-wrenching stories related to policy, infrastructure, and cultural failures that result in the cold fact that every ninety minutes someone is killed as they walk or cycle American city streets. In ten chapters, Schmitt adroitly confronts such traffic violence as the interface between racism, victim-blaming, SUV arms races, and federal design policies that all contribute to a growing public health crisis brushed aside for decades."
— Transport Reviews

"I am most often asked by well-meaning persons, usually racialized white persons, 'What can I/we do as allies to aid in the eradication of pedestrian injuries and fatalities in low-income and minority communities across America?' My short answer usually stresses the importance of intentionality, empathy, and the courage to act expeditiously. Henceforth, I will add to my list, 'Follow Angie'."
— Charles T. Brown, MPA, CPD, Senior Researcher and Adjunct Professor, Voorhees Transportation Center, Rutgers University

"Other countries have cars, other countries drive a lot, but no advanced nation succeeds quite like ours in murdering its citizens with automobiles. The reason behind this fact is deep yet simple: our urban streets are engineered to kill. Nobody explains this better than Angie Schmitt." 
— Jeff Speck, author of "Walkable City" and "Walkable City Rules"