You are here
Back to top
The USDA Complete Guide To Home Canning (Legacy Edition): The USDA's Handbook For Preserving, Pickling, And Fermenting Vegetables, Fruits, and Meats - (Paperback)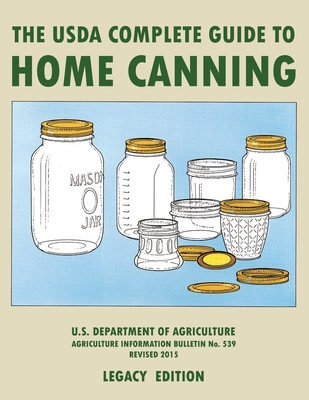 $14.99

Usually Ships in 1-5 Days
Description
---
The USDA Manual of Canning, Preserving, Fermenting, and Pickling Vegetables, Fruits, and Meats
This deluxe unabridged reprint Legacy Edition of The USDA Complete Guide To Home Canning is a richly illustrated and info-packed instruction manual and recipe book with ideas and processes for traditional food preservation, home canning, and pickling/fermentation. Revised in 2015, this book is sure to make the home food preserver happy. This book is a wonderful addition to the collections of both newcomer and veteran canners, homesteaders, or traditional-skills enthusiasts, and sure to help you keep your pantry full of food year round
This book, officially released by the U.S. Department of Agriculture, encourages you to safely preserve your harvests and have delicious, healthy foods on your shelves to keep your family well-fed. Topics include principles of canning and food safety, how to prepare foods for canning, special notes on preserving tomatoes and tomato products, recipes for preserving vegetables, processes for canning meats and seafoods, pickling, fermenting, and canning fermented vegetables, canning fruits, and making preserves, jams, and jellies.
A part of the Doublebit Traditional Food Preserver's Library: Volume 2 - Agriculture Information Bulletin No. 539.
Provided with ample margin space for personal notes on recipe alterations and thoughts on methods.
This Doublebit Legacy Edition reprint of The USDA Complete Guide To Home Canning is professionally restored and presented from the original source, including inspiration from the book's original cover, with the highest degree of fidelity possible. Readers can enjoy this Legacy Edition for generations to come and learn from its timeless knowledge.
About the Doublebit Press Legacy Editions
Sometimes we need to remember our history to move forward. Sometimes, remembering our heritage is just fun or inspirational. With technology playing a major role in everyday life, sometimes we need to take a step back in time to find those basic building blocks used for gaining mastery - the things that we have luckily not completely lost and has been recorded in books over the last two centuries. These skills aren't forgotten, they've just been shelved. It's time to unshelve them once again and reclaim the lost knowledge of self-sufficiency
As a part of the Doublebit Press Legacy Edition Collection, this unabridged volume is reprinted in the exact form as it was presented in the original publication. Both important and minor details have equally both been accounted for by our publishing staff, down to the cover, font, layout, and images. It is the goal of Doublebit Legacy Edition series to preserve outdoors heritage, but also be cherished as collectible pieces, worthy of collection in any handcrafter's or outdoorsperson's library and that can be passed to future generations.