You are here
Back to top
The Ultimate Guide to Preserving Vegetables: Canning, Pickling, Fermenting, Dehydrating and Freezing Your Favorite Fresh Produce (Paperback)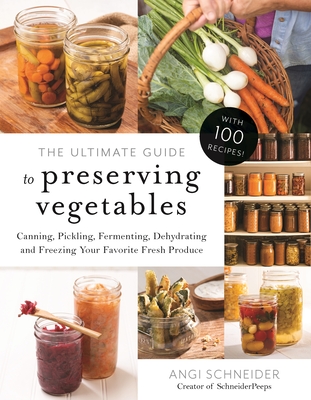 $25.00

Usually Ships in 1-5 Days
Description
---
Practical Methods & Recipes for Creating a Treasure Trove of Preserved Foods

When veggies are at their peak of the season, this preserving compendium covering nearly every vegetable is your one-stop source. Brimming with 100 recipes, beautiful full-page color images, step-by-step preservation methods and handy reference charts, this foolproof guide will help you master canning & pickling, fermenting, dehydrating and freezing the most common garden produce.

Angi Schneider is a master of preserving. She shares methods that emphasize simplicity yet keep the flavors exciting, and shares tips for working your preserved foods into your family's regular meal plan so nothing goes to waste. A sampling of Angi's everyday family-approved recipes featured in this book are:
• Canned Dilly Asparagus
• Fermented Corn Salsa
• Dried Asian Broccoli Crisps
• Frozen Carrot Top Pesto
• Dried Scalloped Potatoes
• Canned Marinara
• Dried Pumpkin Pie Roll Ups
• And so much more!

Angi guides you through the basics of each preservation method, then shares an A to Z guide to preserving common garden vegetables, from asparagus to zucchini and everything in between. Each veggie's chapter includes Angi's growing tips, a reference chart and at least one recipe for each preservation method starring that vegetable. Whether you want to become a more self-sufficient household, reduce food waste for a greener planet or make the most of the fresh produce you have on hand, see how easy and fun it is to fill your pantry with preserved foods your family will be excited to eat.
About the Author
---
Angi Schneider has been gardening and preserving food for more than 25 years. She is the creator of SchneiderPeeps, has written for Countryside magazine and participated in the Beyond Off the Grid summit. She lives on a 1.5-acre homestead with her family on the Gulf Coast of Texas.
Praise For…
---
"When you find yourself with an abundance of vegetables, Angi Schneider has got you covered. She makes home food preservation accessible to everyone—no experience required."
—Kris Bordessa, author and creator of Attainable Sustainable

"Using the tips, tricks and yummy recipes within, you'll learn to build a pantry guaranteed to make your great- grandmothers beam with pride."
—Jan Berry, founder of The Nerdy Farm Wife, author of The Big Book of Homemade Products for Your Skin, Health & Home

"This beautiful preserving guide is a must-have for your homestead kitchen. Angi's book is perfect for anyone wanting to preserve the harvest in every way possible!"
—Colleen Codekas, founder of Grow Forage Cook Ferment, author of Healing Herbal Infusions

"This is the perfect resource for any home gardener, CSA subscriber or farmers' market shopper. Angi gives concise recipes and ideas to keep your vegetables in the pantry for the next season. Even better are the creative and simple recipes to use those preserves in your meal planning routine."
—Kathie N. Lapcevic, creator of Homespun Seasonal Living

"I have books on dehydrating, books on fermentation, books on canning and freezing. But The Ultimate Guide to Preserving Vegetables not only has it all in one beautiful book, it goes a step further and provides information on growing and harvesting. I absolutely love the cheat sheets which give a quick comparison of all the methods of preservation for a particular vegetable so I can easily decide which method to choose. And to top it all off, dozens of tasty recipes are included so that I'm not just preserving plain vegetables, but soups and side dishes ready to serve when time is limited."
—Susan Vinskofski, founder of Learning and Yearning

"I've loved gardening all my life, and the one thing that drives me crazy is seeing my veggies go bad before I get the chance to use them. Well, problem solved! With Angi's book, I can turn all those fresh veggies into delicious treats that can be stored away for later. It's such a gift!"
—Nicole Malik, author of Weeknight One-Pot Vegan Cooking, founder of Delicious Every Day

"The Ultimate Guide to Preserving Vegetables is filled with beautiful photos and step by step directions for everything you need to preserve your garden harvest. This will be a resource I'll come back to again and again."
—Kathy Berget, founder of Beyond the Chicken Coop

"Angi shares great tips for preserving food that your family will love and using parts of the plant that might normally go in the compost. I love her ideas for making pesto with carrot and radish tops! The variety of recipes for each crop captures the fresh flavor and nutrients of your harvest while enticing your family to eat their veggies. I can't wait to try her Dried Cheesy Cauliflower Crisps recipe... yum! Many of these recipes are quick and easy, saving you time and using ingredients you already have on hand. If you are looking for a thorough guide on preserving vegetables from the market or your garden, this guide has got you covered... and then some!"
—Lisa Lombardo, founder of The Self Sufficient HomeAcre

"Angi makes preserving vegetables seem easy and gives so much useful information. This book is perfect for anyone that loves to garden, cook, or is interested in learning more homemaking skills."
—Lisa Sharp, founder of Retro Housewife Goes Green

"A beautifully scripted guide on preserving food and giving you the confidence to put healthy food in the pantry for your family that they will truly love to eat."
—Darcy Baldwin, founder of The Purposeful Pantry